Mold Removal in Renton
As obviously unappealing as mold can be, it can also be discrete with its infiltration, causing you to be aware of all the issues that may point to an infestation in your home or business to catch it in its early stages.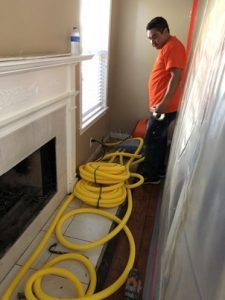 Mold tends to live in attics, ceilings, air ducts, and drywall. Even though you may not be able to visual check these spaces, you can use your nose to find a mold problem by staying aware of the earthy, musty odor it creates.
The technicians at 911 Restoration of Seattle exactly where to check for mold, so if you think you may be smelling an infestation, call their office immediately to receive a free visual mold inspection.
These free mold inspections are given to property owners who have a feeling mold, and mildew may be lurking somewhere indoors. The technicians will look everywhere not only for the mold itself but for the source of the growth.
Typically, water damage is the cause of mold, which is why the technicians make water cleanup an integral part of their IICRC mold remediation process. By implementing water remediation, they will prevent future instances of mold.
The technicians at 911 Restoration of Seattle have your best interests at heart and will administer comprehensive mold remediation in Renton that will decontaminate and dry your property today!
Mold Remediation And Testing Services
When technicians conduct their mold inspection, they will specifically look for instances of water damage inside the property because where there is water damage, there is usually mold.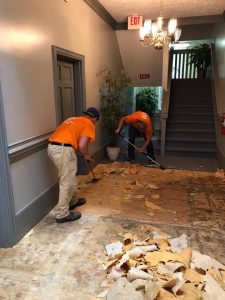 Mold thrives in areas that are damp, dark, and filled with substances they can eat, such as wood, paper, cardboard, and cotton. These places end up being attics, basements, walls and sink cabinets, which are not usually checked daily.
If a mold colony is found during their inspection, technicians will take professional samples of the spores. They will then send those samples to a third-party laboratory where the mold species will be determined.
It is vital to your health to figure out the specific mold living in your home or business because certain types of mold can pose a threat to you and your family.
Everyone is familiar with black mold and the danger it creates to those breathing it in, yet there are other molds that, although less severe, can still cause unpleasant allergies, respiratory issues, and even asthma.
When you want a free mold inspection in Renton, call 911 Restoration of Seattle, and their technicians will check every crevasse of your property to ensure all traces of mold are eradicated.
Certified Mold Specialists, You Can Trust
It is understandable that you would have many questions for the mold removers once it is determined that a mold colony is infesting your property.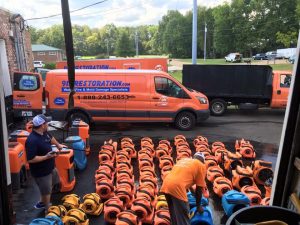 911 Restoration of Seattle wants to give you the answers you deserve. Our staff continually keeps the line of communication open to calm your nerves and reassure you that everything is going to be ok.
Most customers are concerned about the cost estimate for mold removal, yet the technicians will reassure you that their mold remediation prices are competitive and affordable.
Keeping mold rehab costs low is essential since many standard insurance policies do not include mold removal in their coverage. However, even though you may not receive financial aid for mold, you may be able to claim coverages for the water damage.
A staff member will provide you with a free insurance consultation to help you understand your policy and make you aware of the coverage you are entitled to receive. We will even submit your insurance claim for you if need be.
Call 911 Restoration of Seattle to receive customer service that is unmatched by the other mold mitigation companies. Technicians will walk you through the entire mold remediation process to give you the peace of mind you deserve today.
Servicing the cities of Apison, Benton, Seattle, Cleveland, Cohutta, Dalton, Flintstone, Fort Oglethorpe, Harrison, Hixson, Lookout Mountain, Mc Donald, Ocoee, Old Fort, Ooltewah, Ringgold, Rossville, Signal Mountain, Soddy Daisy, Trenton, Wildwood, and surrounding areas.