Mold Remediation in Seattle
The constant rain that beats down on the homes and businesses in Seattle make it an ideal environment for mold to grow, especially during the warmer months.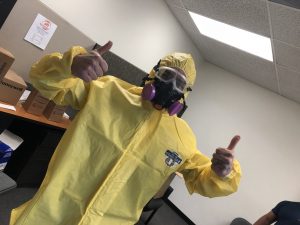 The humidity caused by rain leaks and condensation created by indoor HVAC systems make the dark corners of your property the perfect areas for mold to infest. 
911 Restoration of Seattle has been in the mold remediation industry for years, and they have seen every level of mold growth possible, from mold colonies that take up entire attics to drywall completely riddled with mildew.
Their technicians understand the specific mold cleanup procedures that need to be administered to not only eradicate an infestation but to prevent future instances from occurring.
Along with IICRC certified mold remediation in Seattle, they will administer structural drying and dehumidifying techniques that will remove as much moisture as possible from the area. Call us at 206-203-6155 and allow us to offer you a free visual inspection.
The dryer your property is, the harder it is for mold to grow, which is why our technicians put such an emphasis on water restoration. By removing the bulk of the moisture causing the infestation, technicians can put you in a position to stop mold before it starts.
Call 911 Restoration of Seattle when you need advanced mold cleanup services, and their technicians will give you the peace of mind needed to recover from any mold disaster situation.
Preventing Mold In Walls From Water Damage
The mold and mildew specialists have seen all levels of mold, and through their practice, they have realized the most severe indoor mold infestations occur when mold gets inside the walls and spreads throughout the drywall.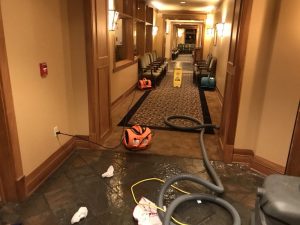 When sheetrock is water damaged, it becomes the perfect environment for mold to thrive within. The porous material sucks up moisture and maintains a warm temperature when it absorbs heat from the sun or heating system.
It only takes 24 hours for mold growing in walls to begin to thrive and spread to other areas of the property. It is crucial to have professionals repair and remediate mold and water damage to eradicate it entirely. 
The technicians at 911 Restoration of Seattle will implement a mold cleanup strategy that applies water restoration and drying techniques. Drying the area is a crucial part of mold remediation because without moisture mold can't grow.
Repair techs will administer structural drying and dehumidifying services that will remove as must moisture as possible to create an inhospitable environment for mold and mildew.
Customers can rely on technicians to provide both water damage and mold cleanup in Seattle. So, call 911 Restoration as soon as you discover signs of a leak or mold growth and their repair techs will arrive quickly to start the mitigation process. Call us at 206-203-6155 and see how we can help.
We Will Eliminate Mold In Both Your Home And Business
The technicians in Seattle are certified mold remediation contractors for residential and commercial properties. Different molds grow in various property types, making it essential to work with a mold removal company that specializes in both.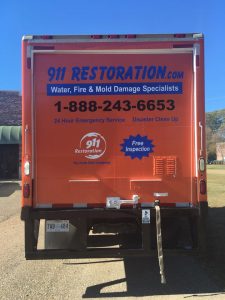 Large commercial properties tend to get mold in the rafters where heat rises. If there is a leak in the roof or condensation buildup, then mold spores can grow rampantly.
Homes typically grow mold in the kitchen, bathroom, basement, and attic, all areas that have the potential to be impacted by water damage and maintain warm temperatures.
By having mold in your home or business, properties where people spend significant time in, you may be at risk of being exposed to airborne mold that can negatively affect your health.
When people and pets inhale mold spores, they can begin to experience allergies and respiratory issues. The symptoms may include fatigue, sneezing, coughing, wheezing, rashes, and even lung infections in severe cases where there is black mold on walls.
Technicians want to keep their customers safe at all costs, so they encourage property owners to call them as soon as they notice they are enduring these health issues when they spend time in their home or business.
911 Restoration of Seattle is prepared to implement mold remediation services to residential and commercial property owners on a moment's notice. Call the mold removers immediately, and they will decontaminate your property completely. Call us at 206-203-6155.
Servicing the cities of Apison, Benton, Seattle, Cleveland, Cohutta, Dalton, Flintstone, Fort Oglethorpe, Harrison, Hixson, Lookout Mountain, Mc Donald, Ocoee, Old Fort, Ooltewah, Ringgold, Rossville, Signal Mountain, Soddy Daisy, Trenton, Wildwood, and surrounding areas.