Mold Removal in Tacoma
There are times when property owners go months with a mold infestation living right under their noses for months, without them even so much as noticing a cluster of spores on the wall.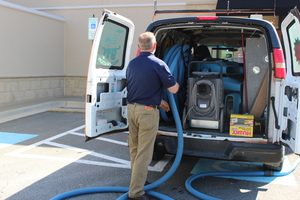 The reason mold can go so long without being discovered is because it likes to live in damp, dark areas that are not in plain sight, such as inside attics, underneath floorboards, in air ducts, and behind walls.
For situations where you are not entirely sure whether or not you need mold cleanup services, the technicians at 911 Restoration of Seattle will provide property owners with a free mold inspection in Tacoma. 
During the mold inspection, technicians will check every corner of the property for signs of mold and water damage, because unmitigated leak and flood damage is often the cause of mold.
The technicians are trained to administer IICRC certified mold remediation services in both residential and commercial properties. They understand the different types of molds that live in various properties, and they will kill airborne mold that may influence your home or business. Call us at 206-203-6155 and allow us to offer you a free visual inspection.
Keeping you safe is the main priority of the mold experts, so call 911 Restoration of Tacoma to receive mold remediation in Tacoma. Their highly trained technicians will start the restoration process by giving you a free mold inspection today!
Eradicating Hazardous Mold In Your House
The certified mold specialists at 911 Restoration of Seattle will find mold growing in walls, attics, floorboards, and all the other hard-to-reach places in your property that mold and mildew fester.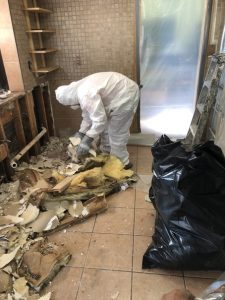 During the mold inspection, repair techs will not only look for mold, but they will search for signs of water damage since both issues often go hand-in-hand. 
Removing mold from walls is only one step in the mold remediation process. Technicians need to cut off the infestation at the source, which is usually an area that is saturated with water damage.
To eliminate mold and stop it from growing, technicians make water damage restoration an integral part of the mold cleanup process. Mold cannot live without water, so be mitigating the leak or flood damage we also prevent future infestations from occurring.
Mold can easily become airborne, land on another surface, and begin another mold colony. This is why it is crucial to hire professionals who know how to dispose of mold drywall safely, as to not contaminate the rest of the property.
By using containment barriers, repair techs will stop mold spores from spreading around the home or business. They will also set up drying and dehumidifying equipment to remove as much moisture as possible.
Call 911 Restoration of Seattle to receive comprehensive mold remediation services from a team that cares and understands your needs as a property owner in Tacoma. Call us at 206-203-6155 and see how we can help.
Local And Professional Mold Removers Near You
911 Restoration of Seattle is locally owned and operated. Their technicians are all experts at handling mold and water damage issues specific to Tacoma, making us a trustworthy source for all your restoration needs.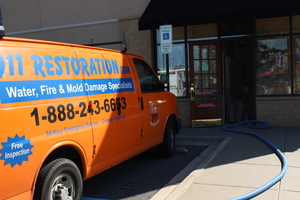 Mold remediation requires an attention to detail that the competing mold mitigation companies simply do not have. 
However, you can rest assured that the technicians at 911 Restoration of Seattle have undergone vigorous mold and water damage removal training that have made them leaders in the industry.
Keeping our customers satisfied is always the top priority of the mold specialists, and they will prove their dedication to the community on every job they are on.
Many customers have questions about the cost of mold removal because most standard insurance policies do not cover mold restoration services. To make it possible for everyone in Tacoma to receive our help, we keep the mold rehab cost down.
By offering affordable prices, 911 Restoration of Seattle hopes to keep your spirits up during this vulnerable time. There is no reason that this ordeal shouldn't be a positive experience for everyone.
Call the mold professionals as soon as you discover indoor mold growing anywhere in your property, and they will turn your infestation into the Fresh Start you deserve! Call us at 206-203-6155
Servicing the cities of Apison, Benton, Seattle, Cleveland, Cohutta, Dalton, Flintstone, Fort Oglethorpe, Harrison, Hixson, Lookout Mountain, Mc Donald, Ocoee, Old Fort, Ooltewah, Ringgold, Rossville, Signal Mountain, Soddy Daisy, Trenton, Wildwood, and surrounding areas.