Fire Damage Restoration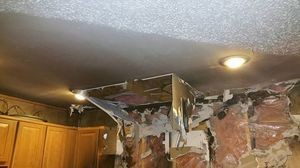 In order to run a successful apartment complex, office building, or mall in Seattle, property owners need to be aware of some of the dangers they face. Every commercial property is susceptible to smoke damage from a fire or water damage from a burst pipe or ceiling leak. When the worst happens, it's critical to call a fast-acting fire restoration company immediately. With a 45-minute response time and 24/7/365 availability, 911 Restoration of Seattle are the experts that you can fully depend upon.
Expert Fire Cleanup Services with a Caring Touch
Fire is dangerous, you already know that. But did you know that the flames themselves might not be the greatest risk as far as property damage goes? Smoke from a fire is the leading cause of fire-related deaths, exceeding burns by a three-to-one ratio. And while direct exposure to smoke can be harmful to your body, it can also wreak havoc on your building's property structure, sometimes in unexpected ways.
Smoke is made up of carbon dioxide, carbon monoxide, and soot. Depending upon what is burning, many other hazardous chemicals may also enter the air, latching onto your walls, ductwork, and other surfaces.
Understanding how temperature, the surrounding environment, particle ionization, and airflow patterns affect smoke distribution can help you get a better sense of how the techs at 911 Restoration will restore your property back to normal.
Temperature: Because hot air rises, smoke damage is typically found directly above where the fire blazed, and outside walls and windows.
Surrounding Environment: Your property's furnishings and enclosed spaces interact with smoke in weird ways. For example, dresser drawers, wall cavities, and closed closets may have more smoke damage than the area where the fire was burning. This is because molecules get more excited in warmer air. In cooler air, molecules move slower and there is not enough energy to keep them aloft, causing them to fall out of the airstream and onto surfaces in these enclosed places.
Particle Ionization: Smoke particles contain an electric charge that attracts them to particular surfaces. This is why you'll find smoke damage surrounding nail heads, clustered in cobweb-like shapes, and on synthetic materials.
Airflow Pattern: Air currents that carry smoke away from the flames deposit residue in odd ways. You'll see smoke cleanup needed in ductwork and on the far side of door openings.
Understanding the interesting ways smoke damage can affect your commercial property also gives you a better sense of the massive fire restoration and smoke removal efforts 911 Restoration provides. Our expert crew will clean and restore every crevice and corner of your building, ensuring all smoke and smoke-related odor is completely removed.
Water Damage from a Fire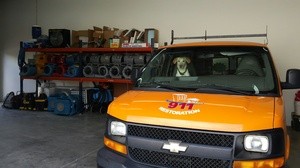 Smoke removal isn't the only thing your property may need after a fire. Water damage may occur as a result of fire crews trying to tame the flames. Water damage repair will be needed promptly, as water can devastate your commercial property and possessions if left unattended to.
911 Restoration of Seattle doesn't just specialize in fire restoration, we're water damage cleanup experts too. Equipped with state-of-the-art equipment and years of experience, we will thoroughly dry, dehumidify, and extract water from your commercial property punctually. Day or night, contact us today and we will be at your doorstep within 45 minutes.
Swift service isn't all that we offer. With our "fresh start" approach, 911 Restoration gives each and every one of our customers attentive, personalized service. We know a damaged property can be a trying time for you, and this is why we want to lend support and empathy when you need it the most.
Seattle commercial property owners can also enjoy:
A free visual inspection for property owners only
Odor and smoke removal
Free insurance consultation
Soot and ash removal
Direct insurance billing
Storing and packing undamaged items
Leak detection repair
Complete water extraction
A 45-minute response time
IICRC certified professionals
If you own a commercial property in Seattle that has been affected by smoke or water damage and need fire restoration services, call 911 Restoration immediately.