Sanitization and Cleaning Services in Seattle
The coronavirus pandemic presents a unique challenge for property owners. Everyone must take responsibility for preventative personal hygiene. But business and homeowners have the added burden of maintaining an environment that promotes peace of mind for family, employees, and customers.
According to the CDC, "current evidence suggests that novel coronavirus may remain viable for hours to days on surface." Thorough disinfection is absolutely crucial for protecting yourself and vulnerable members of your community. If anyone in your household is elderly or has a pre-existing medical condition, they are at increased risk for the most severe consequences of coronavirus. Serious cases of coronavirus may lead to kidney failure, severe acute respiratory syndrome, or death.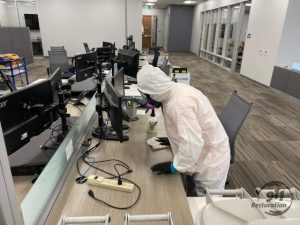 If you own a retail store, office building, or any other commercial property, please realize how easily and quietly this virus spreads. Symptoms may not appear for up to 14 days after exposure. As a result, many customers or colleagues who pass through your property could unknowingly contaminate surfaces. This makes all other customers—and their vulnerable loved ones—susceptible to the coronavirus.
We Value the Highest Quality in Sanitization and Cleanup Services
Please also note that you may never know whether an individual with coronavirus has ever set foot in your property. The CDC encourages those who exhibit symptoms to call their doctor for medical advice. Some are encouraged to stay home, and not all instances of coronavirus are tested, documented, and reported. In other words: do not wait for confirmation that your property is at risk of contamination. Take measures to spread prevention through sanitization and disinfection right away.
At a time of widespread panic, you have the opportunity to provide peace of mind for your customers by taking precautionary steps to clean your facility. The decisions you make today communicate your own sense of personal responsibility in the midst of community crisis. You have worked hard to be of service to your customers. Reassure them now by putting their safety and best interests above all else. Call 911 Restoration locations at 206-203-6155 and see how we can help.
911 water damage experts is always available to provide professional residential and commercial sanitization services. We handle everything from office deep cleaning to home sanitization. Our teams are trained to follow current CDC and EPA protocols. And as a locally owned and operated branch of 911 Restoration Franchise, Inc., we are as dedicated to our community's success as you are. We know the stakes are high right now for everyone, especially business owners. Our sanitization technicians work tirelessly to disinfect contaminated surfaces and help you provide reassurance to your community.
At 911 Restoration, we still have our eyes on a Fresh Start… for you, and for all of Seattle.