Water Damage in Seattle
911 Restoration of Seattle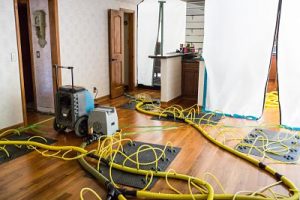 Water damage restoration in Seattle can occur through a variety of issues such as leaks, frozen pipes, burst pipes, and overflowing sinks. It can cause structural damage, destroy belongings, and even create secondary problems such as mold and fungi growth infestation.
Making a call to our team at 911 Restoration of Seattle is a crucial step in restoring your property as soon as you discover the issue. The sooner you call us, the better your chances of minimizing the damages. From Seattle water damage restoration and mold removal, to fire and smoke damage restoration, our IICRC-certified technicians will leave your property, looking better than new. Call us at (206) 203-6155 and allow us to offer you a free visual inspection.

You can count on us to arrive within 45 minutes of your emergency ready to get you back to a Fresh Start. We provide free visual inspections for property owners to assess the scope of the damage to your property. The team will determine the source of your water damage, assess whether mold removal is needed, and create a plan of action for your emergency restoration.
At 911 Restoration of Seattle, we offer a Fresh Start with our comprehensive selection of property damage restoration services, including but not limited to:
Whether you're a Seattle homeowner or business owner, 911 Restoration of Seattle is your Fresh Start! We'll communicate with you throughout the entire process, help answer questions related to insurance, and restore your property to its pre-damaged condition. One of our IICRC-certified teams is dispatched within 45 minutes of your call! Contact us today, and one of our friendly representatives will assist you in finding the nearest Seattle location.
Maya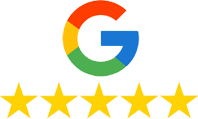 We recently had a water damage in our house and called 911 Restoration. Teya was courteous, explained what needs to be done, and answered all our questions patiently. The water mitigation crew were timely, professional, and efficient. They brought in equipment to dry the floor, removed damaged items, cleaned/sanitized, as well as thoroughly documented the damage for insurance. I would highly recommend them to anyone dealing with such a situation!
Water Damage Restoration
Without a coordinated plan of action, fixing your water damage can be complicated, stressful, and more trouble than the initial water damage was. That's why we work with you from day one to determine exactly what is needed to fix your water damage needs and the steps to take. Our technicians use state of the art equipment and the latest techniques for your water damage restoration. Call us at (206) 203-6155 and see how we can help.

Our Seattle water damage restoration package includes the following:
Free visual inspection for property owners only

Storm repairs

Disaster restoration

Water extraction

Burst pipes

Roof repair

Storage services

Evaluation of structural damage

Leak detection & repairs

Complete home & business restoration

Complete water extraction, drying & dehumidifying
As soon as you are aware of water damage, call the crew at 911 Restoration so we can handle your water damage restoration in Seattle immediately to prevent the need for mold removal or other services. Get your Fresh Start today.
Service area map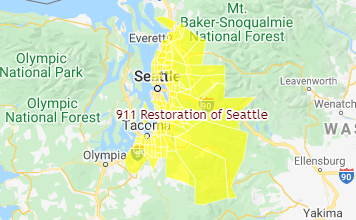 Sanitization Services & Disinfection Solutions
The coronavirus pandemic has gone global. Businesses and individuals are all faced with the unique challenges of dealing with this virus. At a time like this, it's important to understand that every person on this planet has a responsibility to uphold. We must band together to make sure this virus doesn't spread to the ones we love or to anyone else we come in contact with. The crisis has brought increased attention to the importance of personal hygiene and cleaning. More importantly, when your property suffers water damage in Seattle, mitigation and sanitation are crucial.
Homeowners and business owners have to deal with the stress of keeping their property clean. They have to maintain a place that is not only clean and sanitized but also one that ensures peace of mind to family, employees, and customers. 911 Restoration of Seattle is now available to provide professional sanitization services for residential and commercial properties. Our IICRC-certified teams trained on cleaning in order to help reduce the risk of germs. We follow the current CDC and EPA guidelines to make sure we follow all of the proper protocols. We know how much of an impact this Coronavirus has on our lives. Let us give you the peace of mind you deserve.
Mold Removal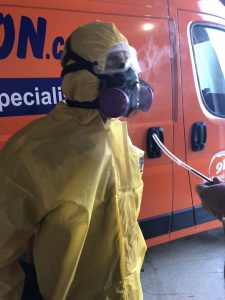 For the best results with mold removal, we offer same-day services. The longer mold has to grow, the more it spreads and eats away at your organic materials. The faster your mold remediation is done, the quicker you can eliminate the risk of health problems stemming from mold infestation.
Water is required to help foster mold growth, which is why part of our mold removal services includes removing all water sources that contribute to mold growth. The longer you wait, the more risk you bring to your property and your health.
If you feel like your health is already at risk, we offer mold testing services while we handle your mold removal. Mold testing allows us to determine if the mold was toxic or regular mold thereby giving you peace of mind with your health.
As soon as you suspect mold, call the technicians at 911 Restoration of Seattle and we'll be there within 45 minutes of your call. Everyone deserves a Fresh Start they can count on, which is what we guarantee our customers. Call us now at (206) 203-6155 for quality mold removal service from our IICRC certified technicians.
Fire and Smoke Damage Restoration
Fire damage is highly destructive and impacts property owners at three different damage levels. That's why our customers can count on:
Free fire damage assessment

Odor removal

Smoke removal

Property restoration

Direct insurance billing

Inventory

Storage services

Reconstruction and renovation

And more
Lastly, fire also paves the way for the third level of damage. It takes water or water-based solutions to put a fire out. Unfortunately, water doesn't just disappear, which is why we also offer water damage restoration services as needed while fixing your fire damage. We work quickly to extract the water left behind so that you don't run the risk of needing mold removal services as well.
If you're in need of fire damage restoration, don't wait to call the technicians at 911 Restoration of Seattle and we'll get started right away. Let us deliver your Fresh Start today.
Sewage Backup Cleanup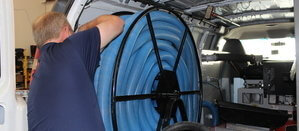 A sewage backup is the most hazardous form of property damage a property owner can face. Due to the raw waste mixed in with the water, sewage is classified as a Class 3 hazardous material. As a result, this should only be handled and disposed of, by trained professionals like our certified team at 911 Restoration of Seattle.
To protect ourselves during the sewage cleanup process, we use hazmat gear. Our cleanup process involves using advanced extraction and drying equipment combined with a double layer of industrial-grade detergents to thoroughly sanitize the area. With sewage, your health is on the line which is why nothing but the best will do for your sewage cleanup.
In addition to the sewage itself, we also address water damage concerns that would cause the growth of mold and fungi. Because sewage is filled with bacteria and other horrid pathogens, it can become the perfect breeding ground for fungus.
We guarantee to remove all odors and contamination along with damage repair. If you have a sewage backup call sewage cleanup Seattle for your Fresh Start today at (206) 203-6155!
Disaster Restoration
When it comes to disaster restoration, you need a team of IICRC-certified professionals that not only get the job done but are there for you during troubling times. Our goal during disaster restoration is to make the process as smooth as possible. By combining our expertise with our customer-first mentality, we are confident in accomplishing our goal.
We offer unmatched accessibility and guidance throughout the entire process. When it comes time to work on your insurance claim, we will take you through the process so you can file everything correctly the first time. We will even file the claim on your behalf if you choose to have us do so.
No matter what makes up your disaster restoration, you can relax knowing we have you covered. Whether you're suffering from water damage, fire damage, or any other disaster damage, we'll keep you in good hands. Get your Fresh Start with the team at certified disaster restoration today at (206) 203-6155.
Serving the communities of Alderwood Manor, Auburn, Bellevue, Black Diamond, Bonney Lake, Bothell, Buckley, Burien, Carnation, Cottage Lake, Covington, Duvall, Edmonds, Enumclaw, Everett, Fall City, Federal Way, Hobart, Issaquah, Kenmore, Kent, King County, Kirkland, Lakeland North, Lake Stevens, Lakewood, Lynnwood, Maltby, Maple Valley, Martha Lake, Marysville, Medina, Mercer, Mill Creek, Milton, Mirrormont, Monroe, Mountlake Terrace, North Bend, Pacific, Parkland, Pierce County, Puyallup, Ravensdale, Redmond, Renton, Seattle, Sea Tac, Sammamish, Shoreline, Snohomish, Snoqualmie, Tacoma, Vashon, Woodinville and surrounding area.