Water Damage in Seattle
When it comes to dealing with pipe burst emergencies and other water disasters it is crucial to act fast to prevent structural damages, rot, mold, and warping from occurring within the property.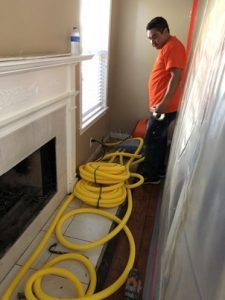 911 Restoration of Seattle understands the importance of getting to the scene of the disaster quickly, which is why its technicians are available 24/7/365 to respond to water-based emergencies.
When customers call the office in need of immediate water damage restoration, they can depend on our technicians to be at their home or business within 45 minutes of receiving your call. Call us at 206-203-6155 and allow us to offer you a free visual inspection.
To ease any concerns about water restoration rates, we give property owners free visual inspections, including an estimate, to determine the extent of the damage and strategize a plan to restore your home or business fully.
The entire operation is IICRC certified and licensed, bonded, and insured for your protection, so customers know that we are more than qualified to mitigate any leak and flood damage you may be experiencing in your property.
So, call 911 Restoration when you need professional water damage restoration in Seattle or any of the surrounding cities and technicians will arrive quickly to give you the peace of mind you need.
Basement Water Damage Cleanup
The basement and crawlspace are the areas of a home that are most vulnerable to becoming flooded and incurring water damage. Since these areas are underground, water can easily leak into them and create extensive flood damage.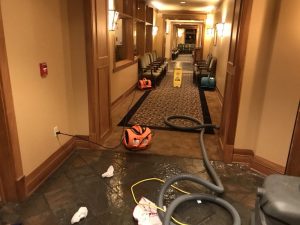 While storms can cause rainwater to seep into the basement if there are any cracks in the property's foundation, it is more likely that an interior issue, such as a pipe burst, will cause basement flooding.
A burst pipe can allow hundreds of gallons of water to flood a basement in a matter of hours, making emergency water removal vital to the recovery of your property and belongings.
When you contact 911 Restoration of Seattle in need of water damage restoration services, you can stay calm knowing that technicians will be there almost as soon as you call them to begin water extractions and drying services.
Implementing professional drying and dehumidifying techniques is just as important as water removal because any lingering moisture can rapidly lead to a mold infestation.
Call 911 Restoration when you are impacted by a pipe burst in Seattle and repair techs will arrive with water extraction equipment and fans to dry out water damage to give you the Fresh Start you deserve. Call us at 206-203-6155 and see how we can help.
The Water Damage Company Known For Its Customer Service
Our repair techs are familiar with all the different types of water disasters that commonly occur in Seattle, such as basement flooding, pipe bursts, rainwater leaks, and home floods.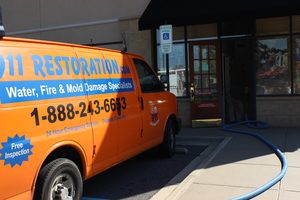 By implementing water damage restoration services quickly after a disaster has taken place, the technicians can prevent structural issues and mold from impacting your property even more.
911 Restoration of Seattle prides itself on their staff's ability to administer water damage restoration with a level of professionalism matched by no other water damage company.
We put customer service on the top of our list and dedicate our time to making you feel taken care of throughout the entire process. From administering the water restoration to assisting you with filing your insurance claim, you will always have someone helping you get through the disaster.
When it comes to insurance, our staff understands that many customers are not fully aware of the coverage they are entitled to receive. To make things more apparent, we will provide you with a free insurance consultation, including the submission of your claim.
Call 911 Restoration of Seattle when you need water remediation from a team that cares and understands your needs. Technicians will answer all your questions and ensure that you feel confident and positive today! Call us at 206-203-6155.
Servicing the cities of Apison, Benton, Seattle, Cleveland, Cohutta, Dalton, Flintstone, Fort Oglethorpe, Harrison, Hixson, Lookout Mountain, Mc Donald, Ocoee, Old Fort, Ooltewah, Ringgold, Rossville, Signal Mountain, Soddy Daisy, Trenton, Wildwood, and surrounding areas.