Water Damage Restoration in Seattle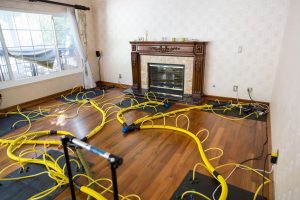 Property owners face many obstacles when it comes to keeping their property functioning smoothly. One of the most common obstacles is property damage. Damage to your property comes in many forms, but water damage is the most common type owners experience. No matter if it's a small leak that leads to bigger problems or a pipe burst causing instant flooding, the impact is devastating.
Water damage can harm the structure of your property by damaging your walls and floors resulting in potentially expensive repairs. The damage can also spread to belongings like your appliances, furniture, and other items. That's why when water damage strikes you need professional water damage restoration services.
Getting water restoration done quickly reduces the likelihood of suffering from the secondary damage that water can bring. Water only needs to be around for about 24 hours to create the perfect breeding ground for mold and fungi to thrive in.
We understand that water damage can strike at any time, which is why we make sure that we're available 24/7/365 to handle any emergency restoration you might need. For our residents in Seattle and Tacoma, you can count on us to arrive within 45 minutes ready to get work on your water restoration. Call us at 206-203-6155 and see how we can offer you a free visual inspection.

If you have suffered water damage in Seattle and need assistance, then call 911 Restoration of Seattle immediately. We'll be there ready to deliver unmatched professionalism and service. That's our Fresh Start guarantee.
Navigating Your Water Damage Restoration
Taking care of your water damage restoration in Seattle needs may seem overwhelming and in untrained hands, it certainly can be. However, we have used the experience we have gained over the years to establish a tried and true process to make your water restoration a stress-free endeavor.
The first thing we do after arriving is start with our visual inspection. Our inspection helps determine the scope and severity of your water damage. Using what we learn in our inspection, we develop an action plan to remedy the situation. Once you have agreed to the action plan, we get to work immediately.
Backed by our IICRC certification, we use additional training to make sure we use only the latest techniques and equipment to get your property completely dried out. We combine water extractors with commercial dryers to get the job done. Once completed, we use infrared technology to make sure there are no wet spots hidden from the naked eye to ensure thorough drying.
Once the property is dried we start working on the repairs needed for your property so you can get back to regular life as quickly as possible. Cutting corners isn't an option with water damage. Failure to do the job right the first time can lead to the need for mold removal in Seattle services.
Don't let water damage last longer than necessary. If you need water restoration or mold removal call 911 Restoration of Seattle. We'll deliver the Fresh Start you need. Call us at 206-203-6155 and see how we can help.
Frozen Pipes Equal Flood Cleanup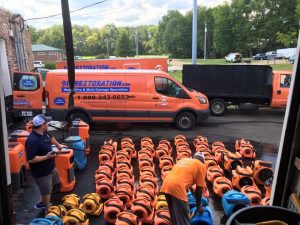 Every year, the coldest time of the year happens. That time is winter. In the middle of winter, everything outside and even inside can freeze when it gets too cold. Your pipes are at the most risk during this cold time of year and if not protected against, can become frozen pipes. Frozen pipes keep the water within from flowing, which creates a buildup of pressure.
When the frozen pipe sustains pressure for too long it can lead to pipe bursts. Pipe bursts result in a explosion of water in the immediate area. This is results in flooding. At that point, you need professional flood cleanup services to address the damage. Not only is there a greater risk of structural damage, but the water in the pipes can cause health problems for the inhabitants as well.
Water from pipes can either be gray water or black water depending on the type of pipe that bursts. Gray water has debris, dirt, and other materials in it which make cleaning and removal more difficult. Black water is known as such because it contains raw waste. This water comes from a burst sewer pipe.
We Value Your Health in Safety when Exercising Water Damage Services
With either type of water, it can cause health issues both directly and indirectly. Mold can grow much quicker with contaminated water creating additional problems. That's why prompt action is required with a pipe burst. Between the need for flood cleanup and mold removal, there is no time to waste.
Regardless of how it happens, if you're suffering from a pipe burst, don't hesitate to call 911 Restoration. We are fully trained and certified to handle all emergency restorations from water damage and mold removal to sewage backup cleanup and fire damage restoration.
Serving the communities of Alderwood Manor, Auburn, Bellevue, Black Diamond, Bonney Lake, Bothell, Buckley, Burien, Carnation, Cottage Lake, Covington, Duvall, Edmonds, Enumclaw, Everett, Fall City, Federal Way, Hobart, Issaquah, Kenmore, Kent, King County, Kirkland, Lakeland North, Lake Stevens, Lakewood, Lynnwood, Maltby, Maple Valley, Martha Lake, Marysville, Medina, Mercer, Mill Creek, Milton, Mirrormont, Monroe, Mountlake Terrace, North Bend, Pacific, Parkland, Pierce County, Puyallup, Ravensdale, Redmond, Renton, Seattle, Sea Tac, Sammamish, Shoreline, Snohomish, Snoqualmie, Tacoma, Vashon, Woodinville and surrounding area.