Mold Removal
911 Restoration Seattle is completely dedicated to making the lives of our clients easier through our superior mold elimination services, so if you're having a contamination issue, contact us today!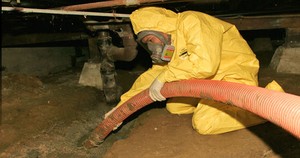 Our mold removal Seattle team provides top-tier mold removal services with technicians who are available 24/7/365.
Owner, Sagiv Winer, says "homeowners need trustworthy and reliable restoration experts that put the customer first."
That is why he prides himself on his mold removal Seattle team.
We are here for you from the moment you call with a free homeowner mold inspection, a 45-minute response time, and same day service.
We wipe your worries away, and call our mold removal Seattle team with 911 Restoration Seattle for expert care for your home or office location today!
A Light in the Night: Mold Remediation When You Need It
At about 3:00 AM a Seattle customer awoke to her dog barking in the living room that leads to the kitchen. She rushed into the dark room only to step foot first into a wet carpet.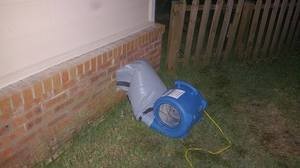 As it turns out, the pipe that runs underneath her sink burst—resulting in a swamped living room as the water flooded out. She made a good call shutting off the water to her home, and she made an even better call by calling 911 Restoration.
The team showed up with wet vacuums, dehumidifiers and dryers to pull the water from her home; however, this level of damage required carpet removal.
See, the number one cause of mold in America is water damage left untreated. As the water soaked her carpet, it made its way into the padding underneath.
The fibers retain enough moisture that it promotes spore cultivation for the space underneath it.  An incident such as this would lead to mold growth.
Remember, anytime is the best time to call us. Our IICRC Certified mold removal Seattle team is ready for the heftiest or tiniest of your mold restoration concerns—eliminating mold before it takes hold of your state of mind.
Preventative Mold Maintenance
Mold will exist in areas where there is little ventilation and a lot of moisture. "There are many areas in the home that never cross our minds. Sink cabinets, crawl spaces, and attics are to name a few," Sagiv explains.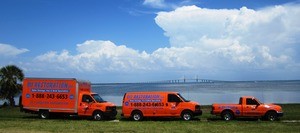 Here are some great tips from our mold removal Seattle team:
Check spaces hidden underneath sinks or cabinets for pipe sweating. This is when warm air hits the cool running pipes and water condenses out. Much like a cold soda can sweats on a hot day.
If you discover pipe sweating, disinfecting the area with bleach is a simple step to take in preventing big damage.
Clear gutters of debris to allow proper water drainage. Pooling water will find its way into attics and subfloors, which can cause costly damage.
Also, check crawlspaces on rainy days to ensure water is not making its way in.
If you encounter water or mold in any of these areas, give us a call. In our 35 years of experience, we have seen it all, so rest assured that our mold removal Seattle team with 911 Restoration has your back!