Water Damage Restoration In Puyallup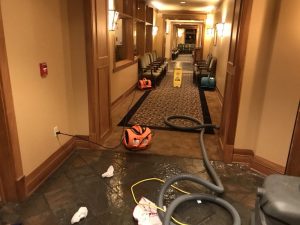 One of the most damaging and common types of property damage owners in the Puyallup area face is water damage. Leaks under the sink, pipe bursts, ceiling leaks, and other sources all result in water damage to the property. The damage can build up over time or can be immediate in the case of flooding. Depending on the severity of your water damage you may need water damage restoration, flood cleanup, or even mold remediation.
If the water is allowed to exist for 24 hours or more the likelihood of a mold infestation becomes much higher. Water makes for a perfect breeding ground for mold and other fungi. That's why you need professional water damage restoration when water damage is discovered. Plus, water damages everything from sheetrock to furniture and anything else it touches.
Since water damage can occur at any time, we make ourselves available 24/7/365 ready to handle any emergency restoration needs. We guarantee to arrive within 45 minutes of your call for all Puyallup area residents. Call us at 206-203-6155 and see how we can offer you a free visual inspection.

Whether you need water damage restoration or mold removal the first step is to call 911 Restoration. After your call, we'll be there to handle everything from start to finish to deliver the Fresh Start you deserve.
Water Damage to Wood Structure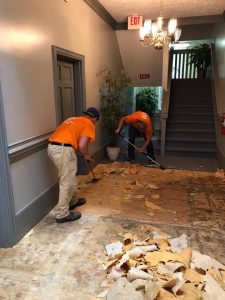 Water damage restoration is an involved process due to the many concerns that need to be addressed beyond just extracting the excess moisture. Most properties are made up of wood structure. When water damage to wood structure occurs, you run the risk of the wood warping and if left long enough producing mold. If mold develops, it will eat away at the wood causing it to become rotted.
If this occurs, you not only need water damage restoration and mold remediation but will also need restoration of the damage left behind. At 911 Restoration, we handle everything from water extraction to structure restoration so you can get back to good as new.
We combine our training and expertise to deliver a superior experience starting with professional extraction and drying equipment to ensure the property is dry as a bone. Once complete, we use an infrared camera to identify any damp spot previously unnoticed to make sure that the job is done correctly the first time.
For a comprehensive water damage restoration or mold removal call 911 Restoration  of Seattle promptly. We'll make sure the job is done thoroughly and correctly the first time. Don't wait to get the Fresh Start you need. Call us at 206-203-6155 and see how we can help.

Flood Damage Restoration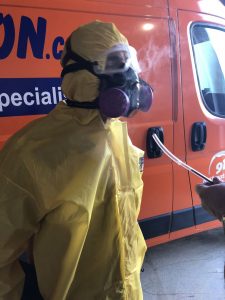 At times, the water damage goes to the next level and becomes flooding. Flooding occurs when large amounts of water strikes, which usually occurs due to a pipe burst or ceiling leak. When this occurs you need flood damage restoration also known as flood cleanup. Flood cleanup is a little different from basic water damage restoration.
Flooding usually results in gray or black water accumulation which requires industrial strength detergents and cleaners to decontaminate the area. Mold is highly likely with flooding, which is why we are prepared to perform mold decontamination services at the same time.
After decontamination is achieved, it's time for water extraction and drying with our commercial equipment. We don't believe in taking chances so we use protective gear along with a secondary inspection to verify that everything has been eliminated.
Since flooding damages property structures severely, we are prepared to restore everything back to good as new for our Puyallup area residents. In addition to our physical services, we are prepared to assist owners with the insurance claim process so there are no untimely delays in getting the assistance you need to get back to normal life.
Whether it's a flood cleanup, mold remediation, or any other emergency restoration you can count on 911 Restoration to take care of you. Get the Fresh Start you need today. Call us at 206-203-6155

Servicing the cities of Alderwood Manor, Auburn, Bellevue, Black Diamond, Bonney Lake, Bothell, Buckley, Burien, Carnation, Cascade-Fairwood, Cottage Lake, Covington, Des Moines, Duvall, East Hill-Meridian, East Renton Highlands, Edgewood, Edmonds, Elk Plain, Enumclaw, Everett, Fall City, Federal Way, Fife, Gilman, Hilltop, Hobart, Inglewood-Finn Hill, Issaquah, Kenmore, Kent, Kent Mold, King County, Kirkland, Lakeland North, Lake Stevens, Lakewood, Lynnwood, Maltby, Maple Valley, Martha Lake, Marysville, Medina, Mercer, Mill Creek, Milton, Mirrormont, Monroe, Mountlake Terrace, Mukilteo, North Bend, North Creek, Northwest Bellevue, Pacific, Paine Field-Lake Stickney, Pacific, Parkland, Picnic Point-North Lynnwood, Pierce County, Puyallup, Ravensdale, Redmond, Renton, Renton Mold, Seattle, Sea-Tac, Sammamish, Shoreline, Snohomish, Snoqualmie, South Hill, Spanaway, Steilacoom, Sumner, Tacoma,Three Lakes, Tukwila, Union Hill-Novelty Hill, University Place, Vashon, West Bellevue, White Center, Wilburton, Woodinville, and surrounding areas