Mold Removal In Auburn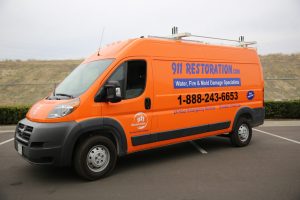 One of the sneakiest forms of property damage is a mold infestation. Due to its slow growth, it can take awhile for property owners to become aware of any mold on the premises. The bad news is that the whole time, mold is eating away at every organic material it comes into contact with. In addition, mold can cause breathing problems along with headaches even if it's not toxic.
Fortunately, mold can be easily identified with a mold inspection even if you're untrained. The most common signs of mold contamination include:
It's important to understand that upon discovery of mold you want to contact professionals that are certified and trained in mold removal and mold decontamination. Standard cleaning measures will only serve to agitate the mold spores. When agitated, the spores become airborne and spread. This will result in new mold colonies to form.
At 911 Restoration, we understand that mold can be discovered at any time. That's why we make sure we're available 24/7/365 to handle all mold remediation needs for our Auburn area residents. Regardless of your location, we guarantee to arrive within 45 minutes of your call ready to get started on your mold removal.
As soon as you're aware of a mold infestation, call 911 Restoration. We'll be there shortly ready to handle everything from mold inspection to mold remediation. With us, you can count on a Fresh Start.
Mold Specialists Near Me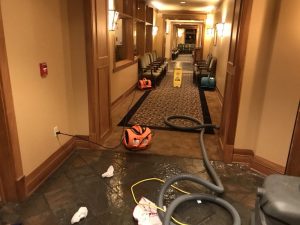 As your mold specialists, we know the mold removal process inside and out. We have combined our training with decades of experience to deliver a truly honed and perfected mold remediation process. The very first thing we do upon arrival is a visual mold inspection to determine the extent of the infestation. Once that is determined it's time for step two.
Step two involves using containment measures such as our state of the art vapor barriers to ensure that the mold is unable to spread past the point of origin. Once completed, it's time for our combination of mold decontamination and mold removal to not only remove all traces of mold but ensure that no potential health issues exist afterward. Once we have finished our work we complete a second mold inspection to make sure we didn't miss anything the first time.
Professional mold removal starts with a call. Contact 911 Restoration for all of your mold remediation and mold inspection needs. We'll deliver a Fresh Start you can count on.
Black Mold Professionals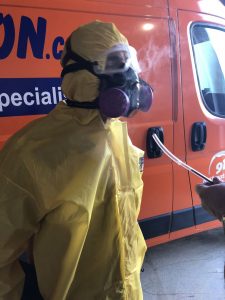 Mold on its own is troublesome enough, but when it becomes toxic the risk to your health goes up quickly. One of the most toxic molds is black mold, which can cause organ shutdown and is potentially fatal for some people. Due to the potential health risks, we offer mold sampling and mold testing services for our Auburn area residents so they can relax knowing their health is in capable hands.
After completing our mold sampling, we send the sample to an independent verified third-party to determine if the mold is toxic. No matter what kind of mold is present we use a comprehensive mold removal process to make sure that every trace is removed.
Throughout our mold inspection, we verify any and all other water sources since water is a key ingredient in the growth and spread of mold. Upon discovery, we resolve the problem and make sure that the property is completely dried out. In addition, we also offer assistance with any insurance concerns you have while trying to get back to normal. Our many years of experience make us uniquely qualified in handling any insurance claims.
From mold inspection to mold removal we have your property covered. Contact 911 Restoration for a Fresh Start you can breathe easy in.
Servicing the cities of Alderwood Manor, Auburn, Bellevue, Black Diamond, Bonney Lake, Bothell, Buckley, Burien, Carnation, Cascade-Fairwood, Cottage Lake, Covington, Des Moines, Duvall, East Hill-Meridian, East Renton Highlands, Edgewood, Edmonds, Elk Plain, Enumclaw, Everett, Fall City, Federal Way, Fife, Gilman, Hilltop, Hobart, Inglewood-Finn Hill, Issaquah, Kenmore, Kent, Kent Mold, King County, Kirkland, Lakeland North, Lake Stevens, Lakewood, Lynnwood, Maltby, Maple Valley, Martha Lake, Marysville, Medina, Mercer, Mill Creek, Milton, Mirrormont, Monroe, Mountlake Terrace, Mukilteo, North Bend, North Creek, Northwest Bellevue, Pacific, Paine Field-Lake Stickney, Pacific, Parkland, Picnic Point-North Lynnwood, Pierce County, Puyallup, Ravensdale, Redmond, Renton, Renton Mold, Seattle, Sea-Tac, Sammamish, Shoreline, Snohomish, Snoqualmie, South Hill, Spanaway, Steilacoom, Sumner, Tacoma,Three Lakes, Tukwila, Union Hill-Novelty Hill, University Place, Vashon, West Bellevue, White Center, Wilburton, Woodinville, and surrounding areas