Mold Removal In Puyallup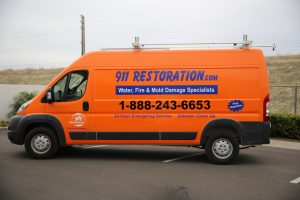 For property owners, very few things are troublesome as mold contamination. Mold builds up in quantity over time. Mold also presents a problem with moisture from water damage that is unknown. These factors add up to mold eating away at your organic materials such as sheetrock, carpet, furniture, and wood among other materials. Plus, mold is potentially hazardous to a person's health. Some of the most common symptoms include difficulty breathing and headaches.
The signs of mold are easy to recognize once you know what to look for. That's why we have provided a brief list of the signs of mold so you know better when its time to call in the professionals for mold removal.
We mention getting professionals brought out because regular cleaning methods don't work. All the scrubbing and sanitizing that is done only serves to agitate the mold spores. Once the spores are agitated, they spread and form new mold colonies thereby making the problem larger.

We know that mold can be discovered at any time. That's why we make ourselves available for our Puyallup area residents 24/7/365 for all of your mold removal needs. We guarantee to arrive within 45 minutes regardless of where you reside in the Puyallup area. Call us at 206-203-6155 and allow us to offer you a free visual inspection.

As soon as you notice or suspect mold, your first step is to call 911 Restoration. Everything from mold decontamination to mold remediation is handled by our technicians. We guarantee a Fresh Start you can believe in.
Mold Remediation and Restoration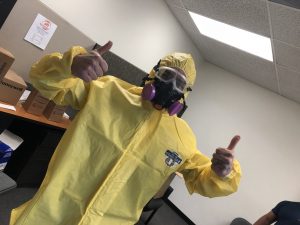 Our years of experience combined with our industry-leading training have allowed us to hone and perfect our mold remediation process. The very first step we take upon arrival is to perform a visual mold inspection to determine if mold exists and how large the contamination has spread. Once that is complete, we begin the mold removal process.
Our process involves three steps. The first step is to contain the mold and keep it from spreading. We accomplish this with equipment like vapor barriers and other containment measures. Once contained, we perform mold decontamination with our commercial grade cleaners and detergents. After the mold is neutralized it's time for mold removal to commence.
Sometimes, mold damages your property to a great extent before we arrive. That's why we offer restoration services for our customers who need help getting back to a Fresh Start after property damage has occurred.
If you need mold remediation or a mold inspection, then don't wait! Call 911 Restoration today. We'll arrive within 45 minutes to deliver the Fresh Start you need. Call us at 206-203-6155.

Black Mold in my House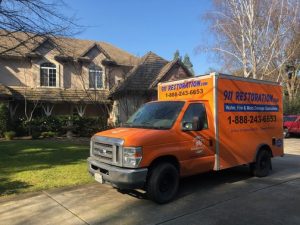 Mold gives property owners problems even when it's regular mold. Sometimes though, mold is actually toxic and presents very serious health risks for the residents within. Of these toxic molds, none are as serious or well-known as black mold. This mold can cause organ shutdown and is potentially fatal for people if left to exist for too long.
If you suspect black mold in your house, it's best to have us perform mold sampling services so we can collect samples to send to a verified third-party laboratory to determine if there is black mold present in the house. As a precaution, we utilize hazmat gear while doing mold removal when the mold is suspected to be toxic.
Our process remains the same from start to finish due to our comprehensive mold remediation approach. In addition to physical remedies, we also offer assistance with insurance claims so you can get the help you need in moving forward to a Fresh Start.
Every aspect of your mold removal is covered when you call 911 Restoration. We'll perform mold testing, mold decontamination, and mold remediation to deliver your Fresh Start. Call us at 206-203-6155

Servicing the cities of Alderwood Manor, Auburn, Bellevue, Black Diamond, Bonney Lake, Bothell, Buckley, Burien, Carnation, Cascade-Fairwood, Cottage Lake, Covington, Des Moines, Duvall, East Hill-Meridian, East Renton Highlands, Edgewood, Edmonds, Elk Plain, Enumclaw, Everett, Fall City, Federal Way, Fife, Gilman, Hilltop, Hobart, Inglewood-Finn Hill, Issaquah, Kenmore, Kent, Kent Mold, King County, Kirkland, Lakeland North, Lake Stevens, Lakewood, Lynnwood, Maltby, Maple Valley, Martha Lake, Marysville, Medina, Mercer, Mill Creek, Milton, Mirrormont, Monroe, Mountlake Terrace, Mukilteo, North Bend, North Creek, Northwest Bellevue, Pacific, Paine Field-Lake Stickney, Pacific, Parkland, Picnic Point-North Lynnwood, Pierce County, Puyallup, Ravensdale, Redmond, Renton, Renton Mold, Seattle, Sea-Tac, Sammamish, Shoreline, Snohomish, Snoqualmie, South Hill, Spanaway, Steilacoom, Sumner, Tacoma,Three Lakes, Tukwila, Union Hill-Novelty Hill, University Place, Vashon, West Bellevue, White Center, Wilburton, Woodinville, and surrounding areas