Water Damage Hobart
If your home is in need of repairs after a water emergency like a roof leak or sewage backup occurs, 911 Restoration Seattle is the fresh start company that you can turn to for top quality water damage repair and restoration.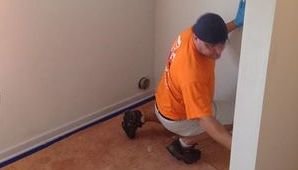 Whatever the water damage situation you're faced with, our water damage Hobart technicians will be making every effort to get your home back in shape through repair and restorations.
Water damage can occur when you least expect it. An issue like a pipe burst needs to be patched up before serious problems like flooding, wood rot, or mold growth can set in.
If it's immediate action you need, our water damage Hobart leak repair specialists will respond to your concern within 45 minutes of your emergency call. Our lighting fast response will ensure that any further complications and harm to your home are averted.
Water Emergencies That We Can Handle For You
Day or night, our water damage Hobart team is available 24/7/365 to lend you a hand. We will be there on the day you need that leak patched up. We have almost four decades worth of experience in helping homeowners deal with various water damage situations. Trust our specialists to take care of issues such as: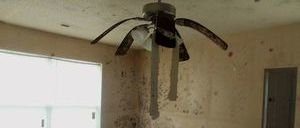 Storm damage and flooding issues
Toilet overflows
Water heater leaks and other water-based appliance issues
Pipe bursts and plumbing leaks
Running sinks and overflowing bathtubs
Roof leaks and ceiling stains
Mold growth
Fire sprinkler malfunctions
Water damage leaves your home at risk if left unrepaired over a period of time. When any of those emergencies do occur, the best decision is to call 911 Restoration and allow us to make your home look good as new.
What To Do When The Sewage Backs Up
A toilet overflow can occur out of nowhere for a number of reasons. This could be caused by problems with your plumbing system or flooding and pressure build up in Hobart's sewer system. But whatever the reason, a sewage backup is a very serious concern that needs to be dealt with by water damage Hobart professionals right away.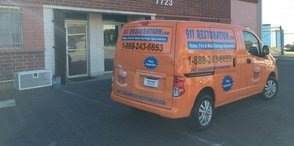 Sewer water carries with it biological waste that can cause severe damage to your property and can spread all kinds of disease.
With 911 Restoration's quick response, this is an issue that can be handled before any serious complications can arise.
Our water damage Hobart flood removal team will be equipped with protective hazmat gear to help us work on the problem safely.
We'll be repairing any plumbing issues we detect and our IICRC certified water damage Hobart technicians will use advanced drying equipment to extract sewer water and remove excess moisture from your home. We will also be checking for signs of mold growth and we will remove any fungus if we do detect any.
To decontaminate and deodorize your home, we will be using industrial strength cleaning solutions that will thoroughly kill any bacteria without causing any further damage.
Once the plumbing issues have been addressed and once the area has been cleared of any sewage, our team of licensed, insured, and bonded water damage Hobart professionals will be conducting the restorations that will give your home a fresh start!
With our meticulous approach to water damage repair and restoration, 911 Restoration Seattle is the company that can best handle all of your water emergencies. Whenever you need help, make sure you call the water damage Hobart pros from the fresh start company today!