Water Damage and Mold Removal in Mirrormont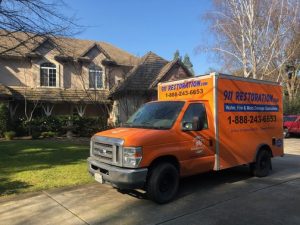 Maintaining a property is no small task. You've already put your heart, soul, and endless resources into making your house a home or making your business a place of inspiration. When an unexpected pipe burst or winter storm strikes, it can feel like all your hard work was for nothing. Don't worry. With 911 Restoration of Seattle on your side, your property will feel new again in no time. 
We have been providing water damage restoration in Mirrormont and the surrounding area for a long time. We consider you a valued neighbor, and we do all we can to make things right for both you and your property. You can count on our flood cleanup technicians for compassionate understanding, clear communication, and the highest standard in service.
Our experts are available to you 24/7/365. They arrive at your property within 45 minutes of your call and work as urgently as if your disaster were their own. You can trust them to communicate clearly throughout the water damage restoration process. This includes a free insurance consultation to clarify which flood cleanup services your provider covers. They even file your claim for you and bill your provider directly.
As for the qualifications of our water damage restoration crew, every member of staff has completed rigorous training. They are IICRC certified in property restoration. This means they meet the highest standards in water extraction, structural repairs, mold inspection, mold remediation, and every other service necessary to make your property new again.
At 911 Restoration of Seattle, we believe in the Fresh Start philosophy. Our flood cleanup and mold removal workers see every disaster as an opportunity to rebuild better than before. We know that when a pipe burst floods your property with gallons of water, it's hard to believe in a silver lining. That's okay. You can feel skeptical and overwhelmed. Just know that our water damage restoration experts see the new beginning waiting for you on the other side of this momentary crisis.
For expert service and peace of mind, call 911 Restoration of Seattle. We'll give you a Fresh Start.
Flood Cleanup and Water Damage Inspection
With the winds, rains, and winter storms of Mirrormont, water damage can get pretty severe. If you're wondering what it's going to take to recover from today's pipe burst or basement flood, rest assured that there's no need to stress. All it takes is one call to 911 Restoration of Seattle.
We're not just a water extraction company. We're a full-service restoration resource. When you call our water damage restoration technicians, you won't have to worry about hiring another contractor. Your dedicated flood cleanup crew takes care of everything.
And what do we mean by "everything?"
First of all, you can expect the water clean up services typical of any water removal company. This includes water removal, sewage cleanup and sanitization, and structural drying. 
Our water damage restoration technicians also go above and beyond in providing emergency services to protect your property. Whether you need boarding up, storm repair, roof repair, or packing out and storing at-risk belongings, they've got you covered. 
Finally, we look to the future by ensuring that your property is left in even better condition than before disaster struck. Our crew handles all repairs, whether you need a new roof or new carpet. They perform a mold inspection and follow up with any necessary mold remediation. In the end, your property is cleaner and stronger than ever.
If you need flood cleanup in Mirrormont, turn to the contractor who thinks of everything. Call 911 Restoration of Seattle.
Lasting Mold Removal in Mirrormont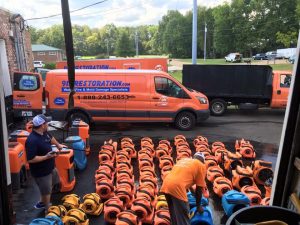 Before you pick up a bottle of bleach in the hopes of handling mold removal yourself, consider what it takes to really get rid of a mold infestation.
The truth is, many property owners fixate on the problem right in front of them when it comes to mold remediation. They see a nasty fungus on the wall, and they feel like everything will be fine if they can just wipe it away. Unfortunately, mold remediation is far more complicated. That visible colony may have spawned additional growths hidden out of sight. Without a mold inspection, your do-it-yourself mold removal efforts may not get to the root of the problem.
Our mold inspection experts look at every corner of your property, especially if you've had a recent pipe burst or any other water incident. They examine the areas where mold is likely to hide and thrive. Then, they follow mold inspection with a professional mold removal process designed for your safety. 
Professional mold remediation also involves structural dehumidifying—an important step for preventing a repeat infestation. A damp structure is essentially at the root of your mold problem. DIY mold removal efforts don't include structural dehumidifying, which means the cause of your infestation still exists.
For reliable, lasting mold remediation, call 911 Restoration of Seattle. Don't put it off another day.
Servicing the cities of Alderwood Manor, Auburn, Bellevue, Black Diamond, Bonney Lake, Bothell, Buckley, Burien, Carnation, Cascade-Fairwood, Cottage Lake, Covington, Des Moines, Duvall, East Hill-Meridian, East Renton Highlands, Edgewood, Edmonds, Elk Plain, Enumclaw, Everett, Fall City, Federal Way, Fife, Gilman, Hilltop, Hobart, Inglewood-Finn Hill, Issaquah, Kenmore, Kent, King County, Kirkland, Lakeland North, Lake Stevens, Lakewood, Lynnwood, Maltby, Maple Valley, Martha Lake, Marysville, Medina, Mercer, Mill Creek, Milton, Mirrormont, Monroe, Mountlake Terrace, Mukilteo, North Bend, North Creek, Northwest Bellevue, Pacific, Paine Field-Lake Stickney, Pacific, Parkland, Picnic Point-North, Pierce County, Puyallup, Ravensdale, Redmond, Renton, Seattle, Sea Tac, Sammamish, Shoreline, Snohomish, Snoqualmie, South Hill, Spanaway, Steilacoom, Sumner, Tacoma, Three Lakes, Tukwila, Union Hill-Novelty Hill, University Place, Vashon, West Bellevue, White Center, Wilburton, Woodinville, and surrounding areas.