Water Damage and Mold Removal in Monroe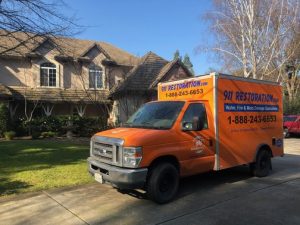 There is almost no escaping the eventuality of water damage in Monroe. The heavy rains of the local climate cause frequent house flooding. Frigid winters lead to frozen pipe bursts. And major storms flood the sewer systems, leading to nasty sewage backups in homes and businesses alike. Fortunately, you can always count on 911 Restoration of Seattle for emergency flood cleanup in Monroe. Our IICRC certified technicians are on standy-by 24 hours a day, every single day of the year. They guarantee an arrival time of 45 minutes or less.
Our water damage restoration experts can handle anything you throw their way. They're prepared to service any residential or commercial property. They can help you in the wake of a pipe burst, roof leak, or any other water disaster. Best of all, they're trained to handle every single aspect of the water damage restoration process. This means 911 Restoration is the only contractor you have to call in a crisis. Our flood cleanup workers conduct water and sewage extraction, emergency boarding up, damage repairs, mold inspection, mold decontamination, and any other imaginable service.
Wondering how much these services will cost? We know how important it is to plan for the financial requirements of flood cleanup, so we're upfront about your needs and options. A member of our staff provides a free insurance consultation. This is your opportunity to find out exactly which services your provider covers, from roof repair to mold remediation. We also assist with the complicated paperwork of your claim, including loss itemization.
We know that when a pipe bursts out of nowhere or a storm ravages your property, it can feel like your space will never be the same. At 911 Restoration of Seattle, we're determined to make your home or business new again. And we're determined to deliver peace of mind from the moment your call comes in. For compassionate water damage restoration and mold removal in Monroe, call 911 Restoration today.
Full-Service Water Damage Restoration in Monroe
Other water removal companies can handle water extraction and structural drying. But that only covers half the problem. At 911 Restoration, we pride ourselves on being more than a water extraction company. We provide everything you need for a Fresh Start.
For one thing, we take extra measures to make sure you don't incur any more damage than necessary after your water incident. Our water damage restoration crew packs out and stores any items that may be in danger during flood cleanup. They work quickly to prevent additional water from entering your property. This means providing emergency boarding up, roof repair, or storm repair.
Once they've removed all water from your property and dried the area completely, they make the space brand new again. If you're recovering from a sewage backup or other contaminated disaster, they sanitize the affected area. They also conduct a water damage inspection to check for problems such as rotting drywall, warped flooring, or any other kind of water damage. They repair any issues they discover, from your roof to your carpet.
Mold contamination is another significant concern following a pipe burst or other water incident. It only takes 24 hours for mold spores to turn a damp surface into a thriving colony. Moreover, any infestation that goes undetected will eat away at your property over time and potentially cause health problems for you. Our water damage restoration experts always conclude flood cleanup with a thorough mold inspection for your safety. If they discover a new growth, they conduct mold remediation themselves.
By the time water clean up service is complete, your home or business feels brand new. Don't let today's water damage disaster define your home or business for years to come. Call 911 Restoration of Seattle for comprehensive service and a Fresh Start.
Can I Use Household Cleaners for Mold Removal?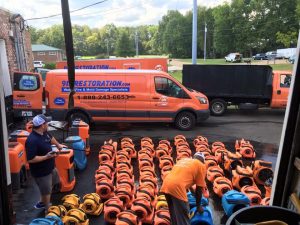 Wondering if you can cut cost by handling mold removal yourself?
We get that question a lot, and we understand why. Mold removal seems simple enough, and why hire a certified mold remediation contractor when you can use a home remedy?
The truth is, you save much more money in the long run by calling 911 Restoration. Our mold remediation technicians provide a multi-step process to ensure that every inch of growth has been discovered and effectively eliminated. This includes a thorough mold inspection, professional mold removal, and structural dehumidifying. 
Without a mold inspection, you're likely to neglect additional colonies growing within your walls and ceiling. Without professional mold decontamination techniques, it's doubtful that your household cleaners will truly get rid of the growth. And without structural dehumidifying, mold spores remaining in the air still have a damp place to land. In all cases, mold continues to thrive in your home or business, contaminating your air and damaging the structure.
Save money in the long run by hiring a reliable mold remediation contractor today. For reliable, lasting mold decontamination, call 911 Restoration of Seattle.
Servicing the cities of Alderwood Manor, Auburn, Bellevue, Black Diamond, Bonney Lake, Bothell, Buckley, Burien, Carnation, Cascade-Fairwood, Cottage Lake, Covington, Des Moines, Duvall, East Hill-Meridian, East Renton Highlands, Edgewood, Edmonds, Elk Plain, Enumclaw, Everett, Fall City, Federal Way, Fife, Gilman, Hilltop, Hobart, Inglewood-Finn Hill, Issaquah, Kenmore, Kent, King County, Kirkland, Lakeland North, Lake Stevens, Lakewood, Lynnwood, Maltby, Maple Valley, Martha Lake, Marysville, Medina, Mercer, Mill Creek, Milton, Mirrormont, Monroe, Mountlake Terrace, Mukilteo, North Bend, North Creek, Northwest Bellevue, Pacific, Paine Field-Lake Stickney, Pacific, Parkland, Picnic Point-North, Pierce County, Puyallup, Ravensdale, Redmond, Renton, Seattle, Sea Tac, Sammamish, Shoreline, Snohomish, Snoqualmie, South Hill, Spanaway, Steilacoom, Sumner, Tacoma, Three Lakes, Tukwila, Union Hill-Novelty Hill, University Place, Vashon, West Bellevue, White Center, Wilburton, Woodinville, and surrounding areas.