Water Damage Restoration In Auburn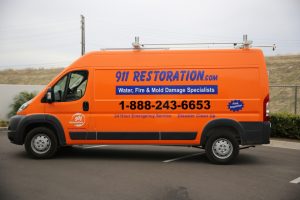 For property owners, there is no other property damage as common or as potentially destructive as water damage. Everything from a leak in the ceiling to a pipe burst can be a source of water damage. When excess water remains on the premises the only solution is professionals trained in flood cleanup and water damage restoration like the ones at 911 Restoration to get your property dry again.
Water damage brings harm to your property by destroying the sheetrock and support beams of your walls. In addition, belongings like appliances, electronics, and furniture are all at risk depending on the amount and extent of your water damage. The final reason why water damage is troublesome for property owners is that it makes for a perfect breeding ground for mold. After 24 hours, mold can grow and spread throughout the property.
At 911 Restoration, we know that water damage can strike at any time day or night. That's why we make ourselves available to our Auburn area residents 24/7/365 to handle your water damage restoration from start to finish. You can count on us to arrive within 45 minutes of your call no matter your location within the Auburn area.
Whether it's a pipe burst or you need mold remediation after water damage strikes call 911 Restoration promptly. We'll be there shortly to deliver your water damage restoration and a Fresh Start.
Water Damage and Mold Removal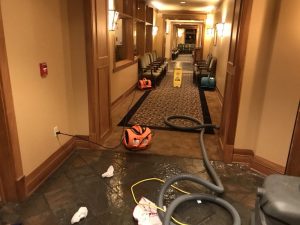 The water damage restoration process is a complex process that requires IICRC certified professionals to handle properly. It may seem like you only need to suck up the excess water, but more is needed lest you end up needing mold remediation along with water damage restoration. The first thing we do before getting to work is to perform a visual inspection to determine the full extent of the water damage.
Once we have determined how severe the water damage is, we can begin the water extraction and drying process. Doing the procedure in this manner ensures the property is completely dried out eliminating the need for mold removal services.
We use the latest training and equipment to facilitate our water damage restoration. We use commercial dryers and water extraction equipment during the drying out period. Once the water is extracted and the property is dried out, we use infrared cameras to pick up on any damp spots unnoticeable by the naked eye. As part of our comprehensive service, we also perform restoration on any damages sustained during the water damage event.
Successful water damage restoration requires making a call to 911 Restoration promptly upon discovery. Whether it's a pipe burst or a leaky appliance hose, we'll remedy the situation promptly. Don't wait to experience your Fresh Start today!
Flood Cleanup in Auburn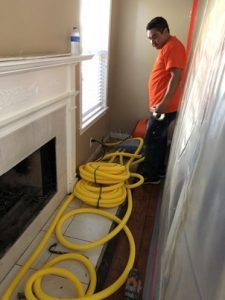 At times, the sheer amount of water and damage present results in nothing short of flooding. This usually occurs due to a pipe burst or other similar large scale source of water damage. When this occurs, the only solution is a flood cleanup. Besides the large amounts of water, flooding is also a source of a large increase in mold contamination thanks to what lies in the water.
Water from a pipe burst is either gray water if from a normal pipe or black water if from a septic pipe. Gray water contains debris, dirt, sediment, and other materials. Black water contains raw waste. Regardless of the type of water, extra precautions are needed, which is why we don protective gear to keep protected while handling the flood cleanup and any need for mold decontamination or mold removal.
With contaminated water, we use commercial grade cleaners and detergents to make sure that the area is safe and decontaminated after extraction for the residents within the property.
Flood cleanup, mold removal, and overall water damage restoration are taken care of when you call 911 Restoration. We are trained, experienced, and IICRC certified in every aspect of water damage restoration. You can count on us for the Fresh Start you need.
Servicing the cities of Alderwood Manor, Auburn, Bellevue, Black Diamond, Bonney Lake, Bothell, Buckley, Burien, Carnation, Cascade-Fairwood, Cottage Lake, Covington, Des Moines, Duvall, East Hill-Meridian, East Renton Highlands, Edgewood, Edmonds, Elk Plain, Enumclaw, Everett, Fall City, Federal Way, Fife, Gilman, Hilltop, Hobart, Inglewood-Finn Hill, Issaquah, Kenmore, Kent, Kent Mold, King County, Kirkland, Lakeland North, Lake Stevens, Lakewood, Lynnwood, Maltby, Maple Valley, Martha Lake, Marysville, Medina, Mercer, Mill Creek, Milton, Mirrormont, Monroe, Mountlake Terrace, Mukilteo, North Bend, North Creek, Northwest Bellevue, Pacific, Paine Field-Lake Stickney, Pacific, Parkland, Picnic Point-North Lynnwood, Pierce County, Puyallup, Ravensdale, Redmond, Renton, Renton Mold, Seattle, Sea-Tac, Sammamish, Shoreline, Snohomish, Snoqualmie, South Hill, Spanaway, Steilacoom, Sumner, Tacoma,Three Lakes, Tukwila, Union Hill-Novelty Hill, University Place, Vashon, West Bellevue, White Center, Wilburton, Woodinville, and surrounding areas