Water Damage and Mold Removal in Lakeland North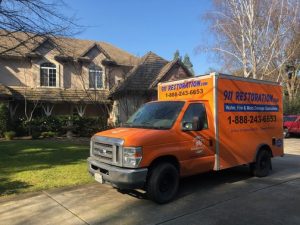 Rainy weather is just a way of life in Lakeland North. Anyone who lives or works in this community has learned how to navigate and even enjoy the long wet season. But there is one aspect of the rain that locals will never quite get used to, and that's the constant threat of water damage.
Whether you own a home or a business in the area, you will eventually be hit by an unexpected pipe burst, house flooding, mold contamination, or any other water-related event. And when that time comes, you can always depend on 911 Restoration of Seattle for water damage restoration in Lakeland North and beyond. We provide emergency flood cleanup 24/7/365. No matter when you call—day or night—you can expect a water damage restoration crew at your door in 45 minutes or less. That is our guarantee to our neighbors.
Every flood cleanup and mold remediation specialist is IICRC certified. They undergo extensive and routine training to ensure you get the best possible service the industry can provide. Our experts are skilled in all areas of water damage restoration, from water extraction to damage repairs to mold inspection and mold decontamination. They do whatever it takes to make your home or business sparkle again. 
And all along the way, our water damage restoration technicians communicate clearly and offer complete transparency. They know it's hard to depend on someone else to care for your home or business as deeply as you do. That's why they make sure you always know what they're doing and why. We also provide a free insurance consultation so you know what to expect in terms of your own financial investment. Does your provider cover drywall repair after a pipe burst? Sewage extraction? Mold removal? If you don't know the answers, no problem. Our flood cleanup staff reviews your coverage and explains everything so you know what to expect.
With 911 Restoration of Seattle on your side, you're never alone. Call now for compassionate service and a Fresh Start.
Emergency Flood Cleanup in Lakeland North and Beyond
At 911 Restoration, we understand the panic that sets in as you watch a pipe burst flood your home or business. No matter how water has entered your property, there is no time to waste. That's why we guarantee an arrival time of 45 minutes or less, no matter where you're located.
Our water damage restoration staff works as quickly as they travel. The moment they come through your door, they assess the situation to determine the best strategy for minimizing damage and expenses. They pack out and store at-risk belongings. They handle emergency repairs such as boarding up, roof repair, and storm repair. Using professional grade equipment, they extract water or sewage, then dry the area completely. Then, they conduct a water damage inspection and a mold inspection to determine whether they should perform mold remediation or manage any structural repairs.
From beginning to end, your dedicated flood cleanup workers are on the move. They don't sit back until the job is truly done. And they don't consider the job done until your home or business feels as new as the day you moved in. We're not just a water extraction company. From carpet removal to structural drying, our team is dedicated to giving you a Fresh Start after a water disaster.
You're not in this alone. Call 911 Restoration of Seattle today.
A Certified Mold Remediation Contractor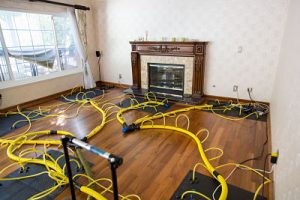 Every member of our water damage restoration staff is also certified in mold remediation. This is because your property is at high risk of mold contamination after a pipe burst, sewage backup, or any other water-related incident. At 911 Restoration, we don't believe water clean up service is truly complete until your property is safe and clean.
Our mold removal specialists conduct a thorough mold inspection before starting the mold remediation process. A mold inspection is the only way to be sure that they're removing mold completely. Once they've discovered and identified every colony, the mold decontamination crew begins mold removal, using professional tools and techniques to ensure effective, lasting removal. They complete mold remediation with a process called structural dehumidifying. This involves a professional fan to dry the structure down to its core. This prevents any stored moisture from rising to the surface, causing a repeat infestation.
If you have suspicious spots on your walls, have been waking up dizzy, or have any other reason to suspect mold contamination, call for a certified mold inspection and mold remediation right away. While fungus may seem like no big deal, it spreads through your property quickly, eats away at the materials that hold your home or business together, and release harmful toxins into the air you breathe. 
To keep your family, your coworkers, and yourself safe, call 911 Restoration of Seattle for mold removal in Lakeland North.
Servicing the cities of Alderwood Manor, Auburn, Bellevue, Black Diamond, Bonney Lake, Bothell, Buckley, Burien, Carnation, Cascade-Fairwood, Cottage Lake, Covington, Des Moines, Duvall, East Hill-Meridian, East Renton Highlands, Edgewood, Edmonds, Elk Plain, Enumclaw, Everett, Fall City, Federal Way, Fife, Gilman, Hilltop, Hobart, Inglewood-Finn Hill, Issaquah, Kenmore, Kent, King County, Kirkland, Lakeland North, Lake Stevens, Lakewood, Lynnwood, Maltby, Maple Valley, Martha Lake, Marysville, Medina, Mercer, Mill Creek, Milton, Mirrormont, Monroe, Mountlake Terrace, Mukilteo, North Bend, North Creek, Northwest Bellevue, Pacific, Paine Field-Lake Stickney, Pacific, Parkland, Picnic Point-North, Pierce County, Puyallup, Ravensdale, Redmond, Renton, Seattle, Sea Tac, Sammamish, Shoreline, Snohomish, Snoqualmie, South Hill, Spanaway, Steilacoom, Sumner, Tacoma, Three Lakes, Tukwila, Union Hill-Novelty Hill, University Place, Vashon, West Bellevue, White Center, Wilburton, Woodinville, and surrounding areas.