Water Damage and Mold Removal in Marysville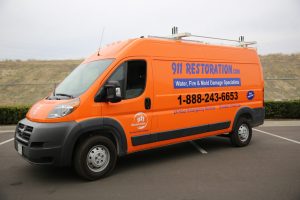 Need mold remediation or emergency flood cleanup in Marysville or the surrounding area? You've come to the right place. 911 Restoration of Seattle serves local business owners with 24/7 water damage restoration and a guaranteed arrival time of 45 minutes or less. No matter when a pipe bursts or storms rattle your property, we're here for you. And if you've discovered a mold infestation on your property, you can count on our IICRC certified technicians for swift, safe mold decontamination.
Worried that your specific situation is too unique? That your water damage is too extensive or your property calls for special treatment? Not to worry. Between the heavy rains and wild winter storms of the Marysville area, our water damage restoration techs have seen it all. They can handle any type of damage to any type of property. From historic residential properties to vast commercial spaces, they have you covered.
In fact, our flood cleanup experts do everything it takes to restore your home or business to its former glory. More than a water extraction company, we're a full-service disaster restoration contractor. Whether you've had a pipe burst or house flooding, ceiling leak or sewage backup, your dedicated water damage restoration crew gets rid of the water, repairs the damage, and fortifies your property against future disasters. At 911 Restoration, our goal is to turn today's nightmare into an opportunity for a Fresh Start. That means rebuilding your home or business so it feels brand new again.
Every member of staff is highly trained and IICRC certified. 911 Restoration is licensed, bonded, and insured. And as a locally owned and operated business, we view you as a neighbor in need—not just another invoice.
For the compassionate care you deserve, call 911 Restoration of Seattle today.
The Most Reliable Water Damage Restoration in Marysville
We know there's nothing more stressful than an out-of-nowhere pipe burst. Your mind is probably reeling. What are you supposed to do? Who can clean up the water? What will this cost? Will your property ever be the same after water damage?
While there are a handful of water removal companies who can provide adequate water clean up services, we seek to address every single one of your worries. From the moment we hear your voice on the phone, our driving goal is to provide peace of mind and earn your trust.
We do this first by providing an urgent response and guaranteed arrival time. We know the anxiety of waiting for help to arrive as you watch water seep into the foundation of your property. That's why our flood cleanup technicians are transparent about their timing. They promise to arrive in 45 minutes or less, every single time.
We also ensure every member of staff is fully trained and up-to-date with the latest skills and procedures for full property restoration. No matter what you need, you can rest assured that your dedicated flood cleanup crew can handle it. They do everything, from water and sewage removal to roof and drywall repair to mold inspection and mold remediation.
Finally, at 911 Restoration, we are sensitive to the financial worries you have to deal with in the face of a pipe burst or other forms of water destruction. Not only do we work hard to minimize your expenses with us, but we are also as accommodating as possible when it comes to insurance. We work with all providers, and a water damage restoration staff member goes over your policy to clarify which services are covered by your insurance. Water damage restoration can include a wide range of tasks, from emergency boarding up to structural drying. Our free insurance consultation ensures you know which services will be charged to you. You don't even have to navigate the paperwork alone. Flood cleanup experts assist with loss itemization and file a claim on your behalf.
You can trust 911 Restoration to go above and beyond in any disaster, no matter how large or small. If you need flood cleanup, call us today.
Black Mold Inspection and Mold Remediation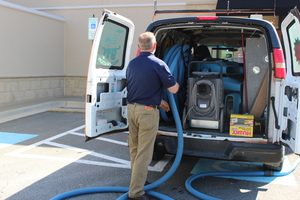 Do you know the signs of a black mold infestation? Common signals include waking up dizzy, experiencing frequent, unexplained headaches, and the appearance of black-green slime-like splotches on your walls or ceiling.
If you think your property is contaminated by black mold, do not delay. Call 911 Restoration for a mold inspection and mold removal right away. The longer you wait on mold remediation, the more time the colony has to release mycotoxins into the air you breathe. And the more mycotoxins you inhale, the greater your risk of developing health issues ranging from asthma to heart problems.
Do not attempt black mold removal yourself. When you scrub at a growth, you force the colony to release more mycotoxins into the air and into your lungs. Instead, keep a safe distance and contact a certified mold removal contractor. Our mold decontamination professionals conduct a thorough mold inspection to discover hidden patches of mold. Even if you see toxigenic mold growing in plain sight, that colony may have spawned more black mold in your walls and in other hidden spaces. 
If you need black mold removal in Marysville or the surrounding area, count on 911 Restoration of Seattle. We keep you and your property safe with a comprehensive mold inspection and effective mold remediation.
Servicing the cities of Alderwood Manor, Auburn, Bellevue, Black Diamond, Bonney Lake, Bothell, Buckley, Burien, Carnation, Cascade-Fairwood, Cottage Lake, Covington, Des Moines, Duvall, East Hill-Meridian, East Renton Highlands, Edgewood, Edmonds, Elk Plain, Enumclaw, Everett, Fall City, Federal Way, Fife, Gilman, Hilltop, Hobart, Inglewood-Finn Hill, Issaquah, Kenmore, Kent, King County, Kirkland, Lakeland North, Lake Stevens, Lakewood, Lynnwood, Maltby, Maple Valley, Martha Lake, Marysville, Medina, Mercer, Mill Creek, Milton, Mirrormont, Monroe, Mountlake Terrace, Mukilteo, North Bend, North Creek, Northwest Bellevue, Pacific, Paine Field-Lake Stickney, Pacific, Parkland, Picnic Point-North, Pierce County, Puyallup, Ravensdale, Redmond, Renton, Seattle, Sea Tac, Sammamish, Shoreline, Snohomish, Snoqualmie, South Hill, Spanaway, Steilacoom, Sumner, Tacoma, Three Lakes, Tukwila, Union Hill-Novelty Hill, University Place, Vashon, West Bellevue, White Center, Wilburton, Woodinville, and surrounding areas.