Water Damage and Mold Removal in Mountlake Terrace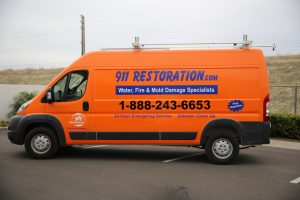 We know how it goes. A pipe bursts in the middle of the night. Or you walk into your place of business to discover a horrifying sewage backup. Or wild Northwest winds send a tree crashing through your roof as rain pours into your home. In any scenario, water is an unexpected and overwhelming invasion. Your greatest asset is at risk, and you need help immediately.
When you need emergency water damage restoration in Mountlake Terrace, you need 911 Restoration of Seattle.
Call us any time of the day or night, any day of the year, and hear a human voice on the other line. We are here for you 24/7 with compassionate service and true expertise. And we don't make you wait anxiously for help to arrive somewhere within a wide, vague window of time. Our water damage restoration technicians are guaranteed to be on the scene in 45 minutes or less. It's that simple.
You can count on our flood cleanup and mold removal workers to meet the very highest standards in property restoration. They've been through the most rigorous training processes and are all IICRC certified. Their skill set also extends well beyond basic water clean up services. With expertise in structural repairs, mold inspection, and mold remediation, they have the skills it takes to make your home or business brand new again.
They also ease your financial stress with a free insurance consultation. "Water damage restoration" can mean many things depending on the nature of your disaster. It isn't always easy to know which services your provider pays for. A flood cleanup expert sits down with you to review your policy and explain your coverage. From structural drying to mold decontamination, you'll go into the process knowing exactly which expenses will fall to you.
It's easy to feel alone when you're standing in a flooded basement. But your best ally is always one call away. For fast, affordable flood cleanup in Mountlake Terrace, call 911 Restoration of Seattle now.
The Go-To Water Extraction Company in Mountlake Terrace
911 Restoration is not like other water removal companies. 
For one thing, our water damage restoration staff provides the most comprehensive service in the industry. Whether you've experienced a pipe burst or devastating house flooding, these experts can see you through from disaster to total recovery. They don't only provide standard water clean up services such as water extraction, sewage removal, and drying. They also cover everything you need to restore your home or business to its former glory. Need roof repair? They can do that. Drywall replacement? No problem. Carpet removal? Mold inspection? Mold remediation? We're not exaggerating when we say they do it all.
The water damage restoration crew at 911 Restoration is also known for their compassionate attitude. All our business practices are driven by one central goal: to offer you immediate peace of mind. To us, you're not just another invoice. You're a neighbor in need of reassurance and real solutions. You can always trust our flood cleanup crew to treat you and your property with the utmost respect. This means immediate availability, clear communication, transparent business practices, and genuine concern.
It's hard to put the property you love in the hands of a stranger. But we promise that as a locally owned and operated company, we value every property in our community as highly as you do. For the very best in water damage restoration and mold removal, call 911 Restoration of Seattle today.
Certified Mold Remediation in Mountlake Terrace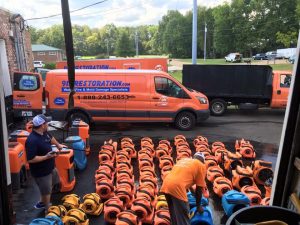 Our water damage restoration crew completes every flood cleanup job with a mold inspection. If you've recently experienced a pipe burst or other water disaster and didn't get a professional mold inspection, it's important to do so right away.
If mold is allowed to thrive without prompt mold remediation, the damage to your home and health can be tremendous. Fungus eats away at any organic material in your home, including wood, glue, and wallpaper. Mold also releases dangerous particles into the air you breathe, ultimately causing anything from asthma to heart problems.
When you call 911 Restoration for mold decontamination service, you not only protect your property from the current fungal attack, but also safeguard yourself against future infestations. Our mold remediation workers conduct a comprehensive mold inspection to make sure every growth in your home or business is discovered and dealt with. Then, they handle mold removal using the tools and strategy most appropriate for your specific infestation. Mold remediation concludes with structural dehumidifying. This means they remove all moisture from the structure where mold grew, making it nearly impossible for an infestation to come back in the near future.
Don't let mold removal slide to the bottom of your to-do list. Call 911 Restoration of Seattle today, and we'll take care of the rest.
Servicing the cities of Alderwood Manor, Auburn, Bellevue, Black Diamond, Bonney Lake, Bothell, Buckley, Burien, Carnation, Cascade-Fairwood, Cottage Lake, Covington, Des Moines, Duvall, East Hill-Meridian, East Renton Highlands, Edgewood, Edmonds, Elk Plain, Enumclaw, Everett, Fall City, Federal Way, Fife, Gilman, Hilltop, Hobart, Inglewood-Finn Hill, Issaquah, Kenmore, Kent, King County, Kirkland, Lakeland North, Lake Stevens, Lakewood, Lynnwood, Maltby, Maple Valley, Martha Lake, Marysville, Medina, Mercer, Mill Creek, Milton, Mirrormont, Monroe, Mountlake Terrace, Mukilteo, North Bend, North Creek, Northwest Bellevue, Pacific, Paine Field-Lake Stickney, Pacific, Parkland, Picnic Point-North, Pierce County, Puyallup, Ravensdale, Redmond, Renton, Seattle, Sea Tac, Sammamish, Shoreline, Snohomish, Snoqualmie, South Hill, Spanaway, Steilacoom, Sumner, Tacoma, Three Lakes, Tukwila, Union Hill-Novelty Hill, University Place, Vashon, West Bellevue, White Center, Wilburton, Woodinville, and surrounding areas.