Water Damage and Mold Removal in Lakewood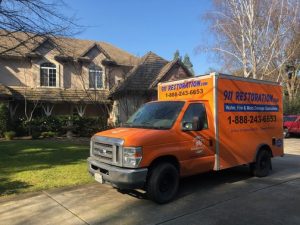 Who do you call when a pipe bursts at midnight? Who do you reach out to when heavy rains flood your storefront? Who can you trust for safe, effective black mold remediation in Lakewood?
The answer is 911 Restoration of Seattle. Our water damage restoration and mold decontamination technicians are the best in the business. They have all completed rigorous training to earn IICRC certification and oversee all aspects of property restoration. They serve both commercial and residential companies. And they're even available at a moment's notice. 
It's true. Our phone lines are open 24/7/365. No matter when you call, you hear a human voice on the other line, and flood cleanup workers arrive at your door in 45 minutes or less.They do it all, from pipe bursts to house flooding, sewage backups to storm damage. No matter how big or small your disaster is, you can expect the water damage restoration crew to treat it as urgently as if it were their own.
At 911 Restoration of Seattle, we believe in treating every customer like a valued neighbor. Our flood cleanup technicians do all they can to ensure your peace of mind from the moment your call comes in. This means providing skilled service, a sense of urgency, and crystal clear communication. They even go the extra mile to put your mind at ease with a free insurance consultation. Many property owners feel overwhelmed trying to make sense of their policy in the midst of a water crisis. Does their provider cover roof repair? Mold inspection? Mold remediation? Which costs will fall to them? A water damage restoration expert walks you through everything so there are no surprises down the line. Then, to make sure you get what you deserve, they assist with loss itemization, claim filing, and direct billing.
As the top water extraction company in the Lakewood area, we understand your stress, fears, and frustrations. We've seen it all before, and we know what it takes to make recovery easier than you thought possible. Call 911 Restoration of Seattle and let us prove it.
Full-Service Water Damage Restoration in Lakewood
What exactly does "water damage restoration" entail? 
That depends on who you call. Some water removal companies are just that—they show up, get rid of the water, and leave. At 911 Restoration, everything we do is guided by the Fresh Start philosophy. That means we see every challenge as an opportunity to begin again, even better than before. When it comes to helping you recover from a pipe burst, our flood cleanup technicians are determined to not only provide water clean up service, but also repair the damages so your home or business is as good as new. 
Our long list of available water damage restoration services include emergency roof repair, storm repair, boarding up, and leak detection. The flood cleanup crew extracts water or sewage swiftly, sanitizes the area, and dries the space completely using professional fans. 
Beyond cleaning and drying, however, our water damage restoration workers protect and rebuild the space itself. They pack out and store any belongings that may be at risk to keep them safe and pristine until they've completed flood cleanup. If your drywall has rotted, they repair it. If water has warped your floorboards, they tear out your flooring and replace it. They rebuild your roof, remove your contaminated carpet… whatever it takes to restore your property to its former glory. In the end, you have more than a dry property. You have a Fresh Start.
For comprehensive flood cleanup in Lakewood and beyond, call 911 Restoration of Seattle today. 
Certified Mold Specialists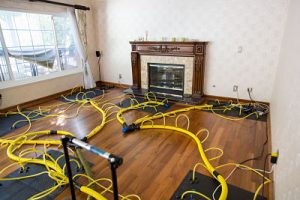 Got a mold problem? Whether it's from a pipe burst nightmare or the origins of your contamination are unknown, call 911 Restoration for reliable mold decontamination.
Many property owners make the mistake of attempting mold removal personally. We get it. It seems like a smart way to save money. But trust us: do-it-yourself mold remediation costs way more in the long run.
When you call a certified mold removal contractor like 911 Restoration, you get a thorough, professional mold inspection. A mold inspection may seem unnecessary if you already know where your infestation is. But consider the mold spores that visible colony releases. These spores spread throughout your property, creating new colonies in hidden spaces. You could have mold in your walls. You could have basement mold you don't know about. Without a mold inspection, you're likely to clean only one small part of a much larger problem.
Our mold remediation crew also takes preventative measures to hold future infestations at bay. Even if your home remedy mold removal effort seems to get rid of the growth, you're still leaving the structure damp. This means spores remaining in the air are likely to land and start a new growth in the same spot. You're back where you started. Our mold removal, crew, on the other hand, uses professional fans for structural dehumidifying. They dry the structure down to its core, significantly reducing the threat of a repeat infestation.
Mold eats away at your home or business. It has the potential to wreak havoc on your health. Protect both your property and yourself from costly long-term damage by calling a certified mold remediation professional today. Call 911 Restoration of Seattle.
Servicing the cities of Alderwood Manor, Auburn, Bellevue, Black Diamond, Bonney Lake, Bothell, Buckley, Burien, Carnation, Cascade-Fairwood, Cottage Lake, Covington, Des Moines, Duvall, East Hill-Meridian, East Renton Highlands, Edgewood, Edmonds, Elk Plain, Enumclaw, Everett, Fall City, Federal Way, Fife, Gilman, Hilltop, Hobart, Inglewood-Finn Hill, Issaquah, Kenmore, Kent, King County, Kirkland, Lakeland North, Lake Stevens, Lakewood, Lynnwood, Maltby, Maple Valley, Martha Lake, Marysville, Medina, Mercer, Mill Creek, Milton, Mirrormont, Monroe, Mountlake Terrace, Mukilteo, North Bend, North Creek, Northwest Bellevue, Pacific, Paine Field-Lake Stickney, Pacific, Parkland, Picnic Point-North, Pierce County, Puyallup, Ravensdale, Redmond, Renton, Seattle, Sea Tac, Sammamish, Shoreline, Snohomish, Snoqualmie, South Hill, Spanaway, Steilacoom, Sumner, Tacoma, Three Lakes, Tukwila, Union Hill-Novelty Hill, University Place, Vashon, West Bellevue, White Center, Wilburton, Woodinville, and surrounding areas.