Water Damage and Mold Removal in Lynnwood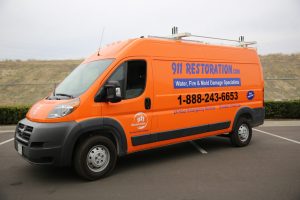 Property owners in Lynnwood may face water damage from flooding, winter storms, sewage backups, or pipe bursts. All of these issues can be repaired by the pros at 911 Restoration of Seattle. Our water damage restoration techs are IICRC certified to handle flood cleanup. Let us offer you a Fresh Start by:
Reaching Your Property Within 45 Minutes of an Emergency Call

Completing a Thorough Water Damage and Mold Inspection

Drying and Dehumidifying Your Property

Repairing Damage and Handling Mold Remediation
Starting water damage restoration and mold decontamination quickly after a water damage emergency can give you back your peace of mind. Contact us now to return your property to perfect condition with mold removal.
Can Water Damage Restoration in Lynnwood Repair Damage from Natural Disasters?
Winter storms, heavy rains, and floods can all be a problem in Lynnwood. These events can flood your property with water, leaving behind damage and encouraging mold growth. Water damage restoration in Lynnwood can wipe away the impact of a natural disaster. All Lynnwood flood cleanup techs at 911 Restoration of Seattle are licensed, bonded, and insured to:
Take Care of Water Extraction

Stop Additional Water from Entering Your Property

Use Fans, Air Movers, and Dehumidifiers to Dry Your Property
Mold removal techs can also take care of mold growth after a flood or a pipe burst. Let us assess your property for signs of fungal growth with a mold inspection in Lynnwood. All fungal infestations can be wiped away with mold remediation and mold decontamination services.
Do You Need Mold Remediation in Lynnwood After a Pipe Burst?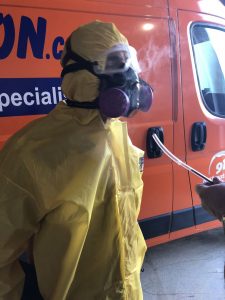 Natural disasters and plumbing emergencies – including pipe bursts – can introduce unwanted moisture into your home or business. This moisture can allow mold to spread through your property. For this reason, flood cleanup techs frequently perform a mold inspection.
If your mold inspection shows signs of mold growth, 911 Restoration of Seattle can begin mold remediation in Lynnwood right away. Thorough mold decontamination and mold removal in Lynnwood can erase odors associated with fungal growth and even get rid of discoloration from the spreading mold.
Let us handle water damage restoration and mold remediation for you. Our mold removal techs are always on-call, so you don't have to wait for business hours when you're experiencing an emergency. Start flood cleanup and mold decontamination in Lynnwood 24/7/365.
Servicing the cities of Alderwood Manor, Auburn, Bellevue, Black Diamond, Bonney Lake, Bothell, Buckley, Burien, Carnation, Cascade-Fairwood, Cottage Lake, Covington, Des Moines, Duvall, East Hill-Meridian, East Renton Highlands, Edgewood, Edmonds, Elk Plain, Enumclaw, Everett, Fall City, Federal Way, Fife, Gilman, Hilltop, Hobart, Inglewood-Finn Hill, Issaquah, Kenmore, Kent, King County, Kirkland, Lakeland North, Lake Stevens, Lakewood, Lynnwood, Maltby, Maple Lake, Martha Lake, Marysville, Medina, Mercer, Mill Creek, Milton, Mirrormont, Monroe, Mountlake Terrace, Mukilteo, North Bend, North Creek, Northwest Bellevue, Pacific, Paine Field-Lake Stickney, Parkland, Picnic Point-North Lynnwood, Pierce County, Puyallup, Ravensdale, Redmond, Renton, Seattle, Sea Tac, Sammamish, Shoreline, Snohomish, Snoqualmie, South Hill, Spanaway, Steilacoom, Sumner, Tacoma, Three Lakes, Tukwila, Union Hill-Novelty, University Place, Vashon, West Bellevue, White Center, Wilburton, Woodinville… and surrounding areas.