Water Damage and Mold Removal in Mill Creek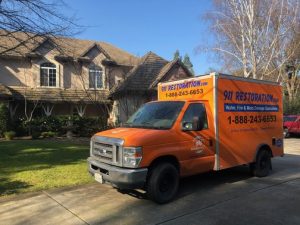 For the very best in residential and commercial water damage restoration in Mill Creek, turn to 911 Restoration of Seattle.
Our IICRC certified flood cleanup technicians are available 24/7/365. That means even if you experience a pipe burst at 2:00 a.m. on Sunday morning or at noon on New Year's Day, you can still expect water damage restoration technicians at your door in 45 minutes or less.
911 Restoration is licensed, insured, bonded, and staffed exclusively with highly trained experts. Our water damage restoration techs are specialists in all water clean up services. This includes restoration-related tasks such as roof repair, drywall replacement, and carpet removal. They are even proven mold remediation experts. If you need a mold inspection or mold decontamination, you can trust this crew to eradicate your infestation completely.
We're more than a water extraction company. We seek to give you a Fresh Start after a pipe burst, storm damage, or any other water nightmare. Our technicians approach your situation with total compassion, delivering peace of mind from the very beginning. With us, you can expect clear communication and professional transparency. We even provide a free insurance consultation so you know exactly which water damage restoration services are covered by your provider. We work with all types of insurance, and a flood cleanup expert assists you with inventory and loss itemization. They then file your claim for you and bill your provider directly so you don't have to give it a second thought.
If you've been struck by an out-of-nowhere pipe burst or any other water emergency, don't settle for a basic water removal company. Choose the comprehensive, compassionate care of 911 Restoration of Seattle.
Emergency Service After a House Flooding
No one likes having to turn to a stranger for help… especially not when your biggest asset is at risk. It's hard to believe that anyone would care about your property as deeply as you do.
We promise you that at 911 Restoration, we care. Our water damage restoration technicians approach your emergency as urgently as they would if it were their home or business on the line. We've been handling flood cleanup in Mill Creek for a long time, and we've seen it all. We know the devastating consequences of winter storms, regional floods, and destructive winds. We know what weighs on your mind, from the fear of financial loss to the question of whether your property will ever be the same. So, our water damage restoration technicians work hard to alleviate every worry. And it all begins with 24/7 emergency availability.
The moment your call comes in, our flood cleanup crew is on the move. When they arrive at your home or business, they conduct a water damage inspection to determine the most productive course of action. The team packs out and stores any belongings at risk of damage. They tackle boarding up, storm repair, roof repair, water extraction, sewage removal, or any other emergency service you require. Using professional-grade fans, they dry the area completely, hoping to prevent long-term damage. They also sanitize if your property flood involved black water or any other hazardous substance.
In addition to providing flood cleanup, the water damage restoration crew wants to leave your property as good as new. They conduct structural testing to determine if there is any weakness or damage resulting from your pipe burst. They perform a thorough mold inspection. If either of these inspections reveals a problem, they handle repairs and mold removal personally.
You may feel like you're in the midst of a nightmare, but our experts are determined to make this a new beginning. Call now for a Fresh Start.
Comprehensive Mold Remediation in Mill Creek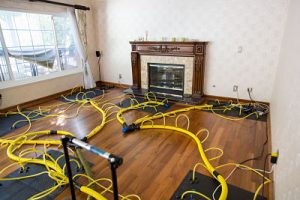 Think you may have a mold problem? 911 Restoration of Seattle is the certified mold removal contractor to call. 
Our mold remediation crew is relentless when it comes to leaving you with a clean, fungus-free property. Mold is sneaky and dangerous, thriving in dark, hidden places where you're unlikely to find it until it's causing real destruction to your property. This is why your dedicated mold decontamination crew conducts a top-to-bottom mold inspection. They are determined to uncover every colony to ensure total mold removal when all is said and done.
Once the mold remediation specialists have determined the nature of your infestation during mold inspection, they begin mold removal. During this process, they use the utmost caution to prevent spreading spores and dangerous particles. After mold removal, the mold remediation staff conducts structural dehumidifying. This step is one of the primary reasons you should leave mold decontamination to the professionals. Structural dehumidifying eliminates stored moisture from the structure where mold grew, preventing a repeat infestation. Without this process, you're likely to have new growth in the near future.
From large infestations to small colonies, call 911 Restoration of Seattle for a mold inspection today.
Servicing the cities of Alderwood Manor, Auburn, Bellevue, Black Diamond, Bonney Lake, Bothell, Buckley, Burien, Carnation, Cascade-Fairwood, Cottage Lake, Covington, Des Moines, Duvall, East Hill-Meridian, East Renton Highlands, Edgewood, Edmonds, Elk Plain, Enumclaw, Everett, Fall City, Federal Way, Fife, Gilman, Hilltop, Hobart, Inglewood-Finn Hill, Issaquah, Kenmore, Kent, King County, Kirkland, Lakeland North, Lake Stevens, Lakewood, Lynnwood, Maltby, Maple Valley, Martha Lake, Marysville, Medina, Mercer, Mill Creek, Milton, Mirrormont, Monroe, Mountlake Terrace, Mukilteo, North Bend, North Creek, Northwest Bellevue, Pacific, Paine Field-Lake Stickney, Pacific, Parkland, Picnic Point-North, Pierce County, Puyallup, Ravensdale, Redmond, Renton, Seattle, Sea Tac, Sammamish, Shoreline, Snohomish, Snoqualmie, South Hill, Spanaway, Steilacoom, Sumner, Tacoma, Three Lakes, Tukwila, Union Hill-Novelty Hill, University Place, Vashon, West Bellevue, White Center, Wilburton, Woodinville, and surrounding areas.