Is Your Basement Flooding? Here's What to Do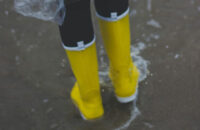 Flooding is one of the most stressful things that a property owner may have to deal with. Unfortunately, the overall changing environment that the world is facing right now means that floods are more common now than ever. From natural disasters to sewage backups and burst pipes, there are a number of reasons why you may have a flooded basement.
Furthermore, floods are among the most common natural disaster in the United States. There are over 41 million Americans who live in areas that are at risk of river flooding. There is an ever-increasing need for water damage restoration and other similar services.
In case of basement floods, you should immediately turn off the electricity, remove the water as quickly as possible, and call the right people. Furthermore, once you are done reading this article, we recommend you quickly test your sump pump and make sure it is working properly. Conduct this test once every month just to err on the side of caution.
Whether your house is under construction or is complete, a flooded basement can be very expensive. Here is what you can do when facing basement floods and a quick guide on how you can prevent this problem in the future.
Dealing With Water Damage In Seattle – Flooded Basements
When dealing with any natural disaster, it is important that you know who to call and how to ensure your own, your family's, and employees' safety. In case of water-based disasters such as floods and storms, make sure to turn off your electricity as soon as possible and evacuate.
Time is of the essence here, especially when dealing with basement flooding. If you don't deal with water damage quickly, there is a very good chance of water seeping into the property's foundations and weakening the whole structure.
Reduce The Risk of Electrocution
The first thing that water damage restoration experts do is turn off your electricity – preferably from the main circuit breaker. A quarter-inch of standing water is just as dangerous as two or three feet of water. The risk of electrocution gets higher as the water level rises.
If the breaker is unreachable or if the area underneath it is wet, we suggest that you wait for professional help.
Reducing The Risk of Further Damage – Removing Water
Depending on the water source, you have a few hours to just a few minutes to safely evacuate the house. For instance, if the water ingress point is a burst freshwater pipe, you aren't at as high a risk as if the source is a blocked sewage pipe.
In the case of freshwater, you can simply rent a pump from a home improvement store and pump the standing water out. You will need to dry out the basement quickly after that, as the risk of mold will increase considerably from then on.
If you are dealing with sewage water, though, wait for the experts. 911 Restoration water damage restoration professionals wear protective gear and masks when pumping contaminated water and sanitize the place to make sure there are no bacteria or pathogen cultures developing.
Checking For Long-Term Damage & Mold
Once the water has been pumped out, and everything is dry, immediately start testing the basement floor, walls, and roof for mold. The quicker you dry everything up, the lesser chance there is of mold. It may take 12-24 hours for mold to start developing.
Knowing Who To Call In Case of a Basement Flood
It is natural for you to forget who to call when under the stress of basement floods. The experts you may need to contact may differ based on the extent of damage from the flood. This is where water damage restoration companies such as 911 Restoration of Seattle come into play. With just one phone call, you can have a slew of experts at your doorstep, ready to help you recover from any natural disaster as quickly as possible.
Some important phone numbers that you will need when dealing with a basement flood include:
An electrician

Plumber

Hardware store(s)

Your local HOA

Waterproofing company

Insurance company
Although the overall costs depend entirely on the extend of damage, water damage restoration after a flooded basement may cost anywhere between $1,164 to $4,871. Over the years, we have found that the following repairs are necessary to recover from the disaster and to prevent it in the future:
Repairs Needed After Water Damage from Flooded Basement
Water removal

Mold removal

Drywall repair

Flooring repair

Ceiling repair

Plumbing

Electrical system repair

Sump pump repair
Upgrades Needed For Future Water Damage Prevention
Plumbing inspections (annual)

Regular sewage line clearing service

Gutter downspout extensions to reduce the risk of blockage

Installation and regular maintenance of sump pump.

Waterproofing the floor

Waterproofing the walls

Getting flood walls installed around the basement and windows
When trying to protect your home from future basement flooding, you may also need to:
Have an electrician inspect your electrical system and move the entire system above the 100-year flood plain (the estimated rise in water level in the next 100 years).

Elevate your furnace and ducts and make sure it is above the 100-year flood plain.

Make sure the flood walls cover the windows and other exposed areas as well.

Insulating external walls with water-resistant material
As mentioned above, time is of the essence during water damage restoration from basement floods. You need to respond quickly to avoid the risk of long-term damage and losing your valuables in the process. Instead of calling each expert individually, it is much easier to call water damage restoration companies.
911 Restoration of Seattle has an extensive network of professionals who can help you with your flooded basement, not only offering water damage restoration expertise but a range of other services as well. If you are confused about what to do or need more information, give us a call. We'd love to help!