Water restoration:Searching for the right company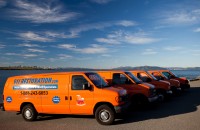 As a home owner, it is easy to see why water damage restoration is so important. My home is not only my sanctuary away from the world, but also an investment I have worked very hard to obtain. Some of the more common reasons a home owner may seek a water damage restoration company include rain or plumbing leaks, fire sprinklers that have been set off, toilet or washer overflows, and the dreaded sewage backup. Some less common, but sometimes more detrimental causes are natural disasters, such as flooding caused by major storms. These unfortunate events will not only cost you money, but also drain your energy and waste your time.
One of the most overwhelming tasks to complete when you are dealing with water damage is finding a water cleanup and removal service that can be both affordable and reliable. There are a few ways to ensure you are hiring a company that is capable of completing the job the way it should be done. Finding a company that can perform a wide variety of services like basement flood cleanup, flood damage in your crawl space, completely drying out carpets, wood floor restoration, and the restoration of water damaged cabinets is very important.
Another important consideration is the response time. Time is vital in getting a complete restoration, and same day service is what will allow this to happen. Water damage to your home is a stressful situation, but a superb water cleanup service provider that arrives promptly is the best way to ease that stress.